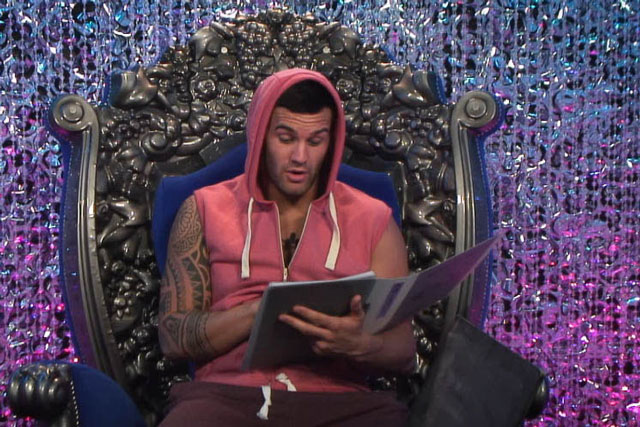 Ofcom has launched an investigation into scenes in the reality series and sister show 'Big Brother's Big On The Side' after receiving more than 1,200 complaints, stirring memories of the 2007 race rows.

In the most controversial of the incidents Conor McIntyre, an Irish fitness trainer, launched a foul-mouthed tirade at Deana Uppal, Miss India UK, after she became the only person in the house to fail an eating task.

This prompted 1,108 complaints, of which the majority were concerned that McIntyre was bullying Uppal.

In the episode, which was aired on Channel 5 on 25 June, McIntyre said: "Get your epilator and stick it up your arse. We don't give a f**k! Stick it up her f**king m**ge, stupid b**tard.

"I'm gonna play loads of pranks on her. F**king piece of s**t, I don't give a f**k if I'm pulled up to the diary room."

McIntyre was pulled into the diary room for a dressing down from 'Big Brother' but he was allowed to return to the house with just a verbal reprimand after he apologised for his behaviour.

There have also been 114 complaints from viewers criticising Caroline Wharram, an ex-boarding school girl from Surrey, for being racist after she called Adam Kelly as a "ridiculous gorilla" with "no sanitation".

'Big Brother' is not new to race rows and its former broadcaster Channel 4 scrapped the celebrity version in 2007 after Ofcom received close to 50,000 complaints - a record - about the treatment of Bollywood actress Shilpa Shetty on the show.

Wharram was also allowed to stay in the house after apologising for her words but is understood to have prompted further complaints on Saturday (7 July) by likening Kelly to civil rights activist Martin Luther King.

There have also been three complaints about an episode of 'Big Brother's Bit On The Side' last Wednesday (4 July) when former BB housemate Victor Ebuwa used the word "retard" to describe contestants.

A spokesman for Channel 5 said: "Channel 5 is committed to complying with the Ofcom code and will hope to facilitate a speedy investigation into this particular episode of 'Big Brother' and 'Big Brother's Big On The Side'."
Schwarzkopf, the Henkel-owned brand, is the headline sponsor of Channel 5's Big Brother, Celebrity Big Brother and Big Brother's Bit On The Side, and Henkel has a number of other product placement deals with the show.
Asked whether it was considering taking action, a Schwarzkopf spokesperson responded: "We are prevented by law from influencing editorial content or policy as this responsibility rests firmly with the makers of the show. We will continue to closely monitor the situation, but it would not be appropriate to comment any further at this stage of Ofcom's investigation."