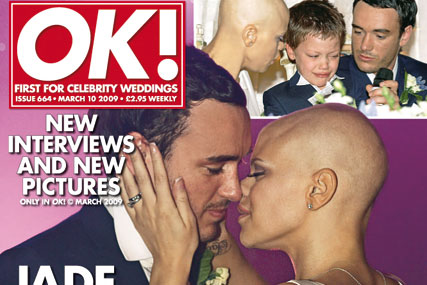 According to internal circulation figures seen by Media Week, the first of three wedding issues, which went on sale on 25 February, recorded a circulation of 1.8 million, in a combination of news-stand and subscription sales.

Goody struck a deal through her publicist Max Clifford with the Richard Desmond-owned magazine worth an estimated £700,000 for exclusive wedding photographs.

The 4 March issue, which offered more exclusive photographs of the nuptials, pulled in a circulation of over one million, according to the figures.

The 11 March issue has a current circulation of 885,000 and this is likely to increase, according to sources. None of the figures are ABC audited.

The circulation hikes will provide a welcome boost to the magazine, which posted a 25% drop in year-on-year circulation in February's ABCs for the last six months of 2008. According to ABC, OK! sold an average of 508,504 copies each week in the period.

The title's biggest selling issue was the celebrity wedding between Wayne Rooney and Coleen McLoughlin, which recorded a circulation of two million last June.

Northern & Shell was unavailable for comment as Media Week went to press.

Separately, Goody's wedding preparations delivered a record audience for Living TV, with 789,000 tuning in to the programme screened on 11 March.

The documentary, called Jade: Bride to Be, which showed the reality TV star's hen night, pulled in a 3.8% share of the multichannel audience, according to unofficial figures.