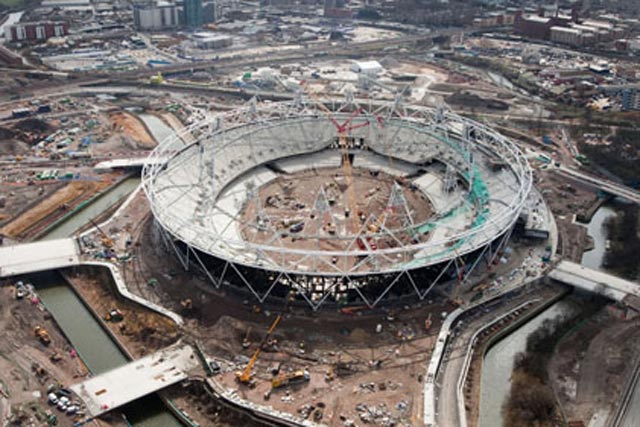 Half of the UK population will follow the London Olympics more than they did the Games in Beijing in 2008.
People are planning to consume more media for the Olympics than they did for the Jubilee or the Royal wedding, the majority of which will be via TV, while hearteningly for so-called traditional channels, print and radio are the media that will be second and fourth most used respectively.
Respondents are excited by the vast BBC offering, with 62% thinking it is a credit to the BBC. They are planning to consume the BBC's additional coverage through their TVs, computers, smartphones and tablets, with 5.8 million planning the latter.
More than one in four will take to social platforms to share their thoughts on the Games, rising to almost half of those under 35.
All in all, the UK and London look poised to drink in the Games through every available media channel and then tweet, post and blog about it to the world.
We asked 2,010 people how they planned to follow the games and what, if anything, they planned to do that was outside of their ordinary routine.
The most basic question around any major event for those in media is "will people care enough to consume media at a level above their normal threshold?"
Our previous studies revealed that for the Royal Wedding, 24% said they would consume more media than normal, while for the Jubilee it was 17%.
Those two significant and wholly British events have been blown out of the water by the Olympics, with 41% saying that they will consume more media over the Olympic period than they would normally. That jumps to 60% for those who were lucky enough to get tickets, with only 14% saying they will consume less.
A look at the channels people intend to use to follow the Olympics reveals a remarkably democratic split.
While TV is still people's ultimate choice - with 87% saying that it will be their main method of following the Games - when we take into account the full range of media (main or otherwise) that people plan to use to follow the Games we see a role for every channel (see chart below).
Percentage of people who will follow the Games via each channel
It is interesting to note that reading in print is the second most used channel for all adults, while that has switched to reading or watching online for under 35s.
Clearly social and mobile are more widely used by under 35s, but 9% of all adults watching via a mobile device represents a not insignificant five million people.
So with 81% of adults planning to follow the Games in some way, we can consider them in their wider context. Fifty percent of adults agree that the Olympics truly allows humanity to come together and set aside political, religious, racial and other differences, with only 20% disagreeing.
As with the Jubilee and Royal Wedding before it, the Olympics also offers people a chance to connect with one another in person; 33% have made special plans of some kind around the Games, rising to 40% for the under 35s.
Connecting with one another is probably the area that most lends itself to social media, as those unable to get together in the flesh comment through online channels. Forty six percent say that they will comment on the Games face-to-face, while 26%, or 14.6 million people, will use a social platform of some kind for that purpose.
For under 35s, the proportion who will converse via social rises to 46%, although this is partly reflecting the fact that younger people communicate more, as 50% will talk about the Games in person.
Opinion of the BBC coverage is also largely positive and serves as a perfect illustration of the multi-platform Olympics.
Although 24% think the extra coverage is not necessary, 62% think it is a credit to the BBC and 39% are pleased to have the opportunity to focus on less mainstream sports. In terms of consuming the additional content, TV remains king as 58% will view extra footage on the big screen.
One in five will consume the coverage on a laptop or PC, while 11% plan to consume it on a smartphone, just ahead of the 10% who will watch on a tablet.
Additionally 11% say that they plan to download an Olympics-related app, just over half of whom will choose the official Locog app.
Our results here help to substantiate two things that have become media true-isms recently. Firstly, that this will be a genuinely multi-platform event and secondly that TV is still the most dominant medium for the vast majority of consumers.
Taking the former, the fact that five million people intend to watch at least some of the games on a mobile device, 7.3 million are planning to follow the games using a social network, while still greater numbers will keep up with events via newspapers and radio, making the Games genuinely multi-platform.
We should also bear in mind that pictures and views aired online will be passed on via mainstream media. It is clear that significant numbers of people will use multiple media to follow, discuss and share in the Olympic experience.
Nevertheless it is equally irrefutable that TV remains staggeringly dominant. For all the newspaper, radio, internet, social and mobile that people plan to consume, when asked to name the channel that will be their main means of following the Games, 87% name TV.
Yes this will be the most multi-media event ever, but the Football World Cup in 2014 will almost certainly eclipse it, and the Olympics in 2016 will eclipse that. We must remember that we are still just at the dawn of multi-platform events.
MPG Media Contacts