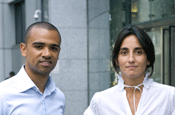 Cristina Sagarduy, formerly the implementation director at The Search Works, takes the new role of managing director search, for OMG EMEA, while Dean Gardner joins OMG as the director of search strategy, OMD International, to help the network handle multinational activity.

Both Sagarduy and Gardner will work closely with Damian Blackden, the president, OMG Digital for Europe, the Middle East and Africa.

Sagarduy will be responsible for working with the OMG agencies, OMD and PHD, on expanding their existing search business across the region.

Both agencies offer search as part of their core offering rather than having separate businesses.

The pair had previously worked on helping The Search Works, which was acquired by TradeDoubler last year, to grow across Europe.

Blackden said: "Both Cristina and Dean are extremely strong in terms of search strategy and technology, and will be leveraging our networks' ongoing investment in all forms of paid and natural search marketing.

"Their placement in the core agency team means that as well as delivering the usual integrated client benefits, we can deliver them much faster and more consistently than some of our competitors."

OMG's move to build a senior search marketing team follows the arrival of Blackden in the newly created digital role four months ago.