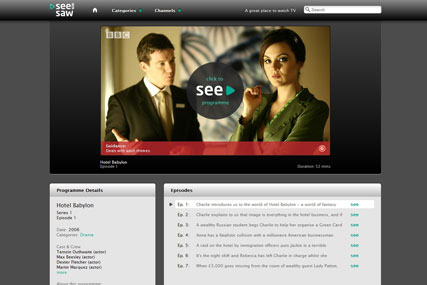 Data from Nielsen Media Research, which has been analysed by the marketing body for commercial TV, Thinkbox, suggests TV spend now accounts for 71.5% of online brands' advertising investment, when online search is excluded. The figures including search were not disclosed.
In 2009, online brands accounted for 5.5% of all TV spot-advertising revenues and more than 20 programme sponsors were online brands.
The rise in TV spend from online brands is equivalent to an average of 172% a year, over the past five years.
Thinkbox said the number of online brands advertising on TV had jumped from 34 to 289 in the same period. In 2004, TV ad spend by online companies was just £10m.
David Brennan, research and strategy director at Thinkbox, said some of the "most memorable and effective TV campaigns of the past year have been created by online brands, which is further proof of TV's healthy commercial relationship with the internet".
High profile internet companies have recently looked to TV advertising. Google spent $5m for a slot during the Super Bowl and online TV venture SeeSaw has announced an intention to invest significant sums into TV advertising.
Rhys McLachlan, managing partner of implementation and futures investment at MediaCom, said TV remained unparalleled in its "ability to build brands and drive brand equity and affinity".
McLachlan added: "Web brands inevitably harness TV's unique brand-building power to help establish their own brand equity, with even the most famous of all web brands, Google, turning to TV recently."
Amelia Torode, head of strategy and innovation at VCCP, the agency behind Comparethemarket.com's 'Meerkat' campaign, said that as well as building fame and mass awareness, TV can spark "deep engagement and participation online" when developed as part of "properly constructed integrated campaign".