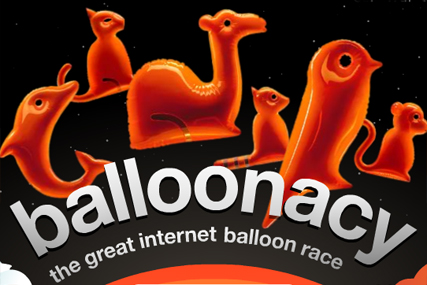 The contest, which has been created by Poke, invites "pilots" to register at the Balloon Race homepage, in time for the start of the race on 8 November. Participants can select an animal balloon, name it and add a personal message to encourage their friends to give them a boost.
The racecourse will see balloons flying across the websites of various brands, including Universal Music, Facebook, The Sun and NME in a race to reach "the edge of the internet" and the finish line by 17 November.
The competition embraces social media, allowing competitors to "wave" to each other, and boost one another's balloons. Specially-created Facebook and Twitter tools will let users make "friends", "follow" one another, chat, or announce the performance badges they have won.
The pilot of the fastest balloon over the finish line will win an 11-night five-star trip to Kenya, where they will take part in a real balloon trip over the Masai Mara game reserve. Other prizes include a week's holiday for two in Egypt and free cinema tickets for a year.
Spencer McHugh, director of brand at Orange owner Everything Everywhere, said: "At Orange we're committed to innovating in the digital space by finding new and exciting ways to surprise consumers through engaging, stand-out campaigns.
"We hope 'Balloonacy' continues the award-winning success seen in 2008 and sets a new standard for digital campaigns."
In the 2008 campaign contestants raced a total of 63 million internet miles.
Poke and digital media agency I-level won a Grand prix for Balloonacy at last year's Revolution Innovation Awards.