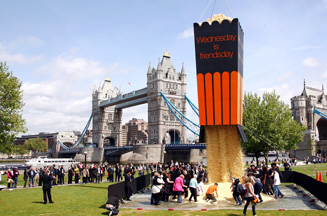 The giant tub released the popcorn at Tower Bridge with more than £10,000 worth of prizes hidden inside for 100 invited guests.
Prizes included a private drinks party and screening of the new Star Trek film for 50 friends; a romantic weekend to Paris; a two-night spa break at Champneys; cinema vouchers and PizzaExpress vouchers.
Orange Wednesdays is currently being promoted with a £7m above-the-line marketing campaign across cinema, TV, radio, press, and outdoor with a Wizard of Oz theme. Roughly 85,000 customers have taken up the Orange Wednesday two-for-one Pizza Express deal, running in conjunction with the marketing activity, since February.