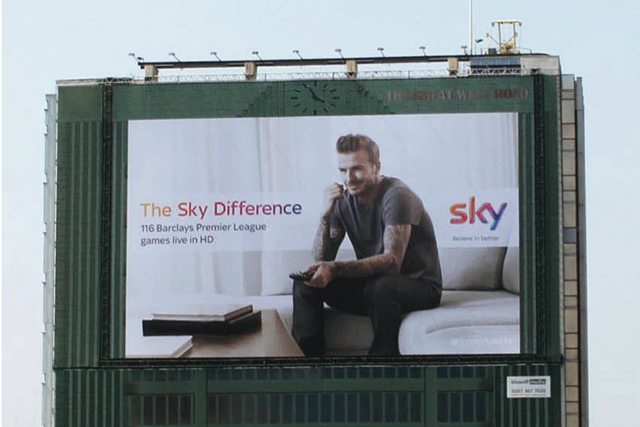 Campaign: "There's a Difference"
Media owner: blowUP media UK
Agency: Rapport
What was the idea?
When David Beckham joined Sky as an ambassador this year, naturally we turned to him for one of our biggest campaigns, promoting coverage of this season's Barclays Premier League matches. With Sky covering 116 of the matches live on HD - more than any other broadcaster - it was important that we delivered a marketing campaign to reflect this.
What was the media strategy?
We wanted to ensure that consumers understood the convenience and flexibility of watching Sky Sports - wherever, whenever. Outdoor played an important role in a wider Sky marketing campaign that included TV, print, digital and social-media channels. A premium layer of OOH is very important in any campaign because it delivers cut-through in important areas for us. A blend of national reach and quality always results in a balanced campaign.
How did you use outdoor?
With nearly 1.8m people viewing the Alfa Laval site on the M4 over a fortnight, the campaign made a huge impact, with Sky positioning itself as the go-to channel for football in the run-up to the new season. We wanted to ensure that one of the world's biggest sports stars would be seen on one of the biggest ad platforms in the UK.
Using the M4 Alfa Laval, along with premium sites that included Birmingham Paradise Circus and Glasgow City Centre, was in keeping with the campaign strapline, "The Sky Difference", and ensured that it stood out in a competitive market.
---
Barry Louth, head of media planning, BSkyB