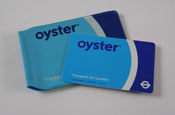 The watch, which has inbuilt Oyster payment technology, has been trialled over the past six months by 500 members of Transport for London staff and is due to be rolled out later this year.
Oyster is in discussions with several watch brands, including Swatch, to secure an official launch partner.
Travellers with a Barclaycard OnePulse card can already touch in using their card to make journeys and Oyster is now trialling the use of Nokia handsets, which also feature Oyster technology. However, Sue Doyle, marketing director of TranSys, which owns Oyster, said it is unlikely that the Nokia product would officially launch for at least another two years.