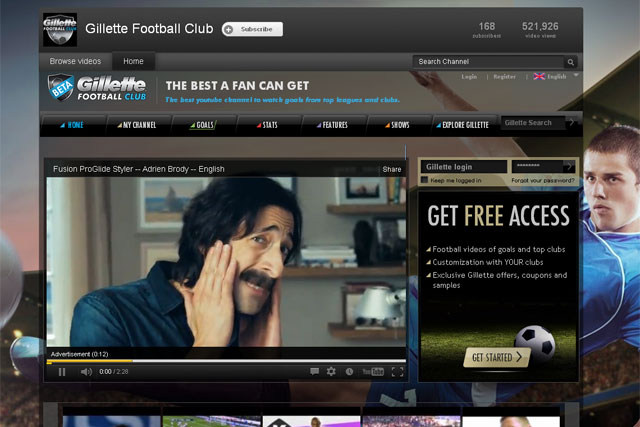 Gillette, which is the sponsor of football on YouTube in EMEA, has launched the Gillette Football Club channel on the video site, with content including goals, highlights and behind the scenes footage from international football leagues and clubs.
The channel has gone live today in beta. It features content from leagues including Spain's La Liga, and Italy's Serie A, and over 50 different clubs, including Manchester City FC, Chelsea FC, Paris Saint-Germain, and Olympique de Marseille.
It does not have online Premier League highlights, however, as the rights are owned by Yahoo.
The channel will feature news from sports content providers such as TalkSport and ESPN. Gillette plans to launch exclusive branded football content on the channel, created by production company Big Balls Films, and social gaming.
It also has a stats page with information on leagues, including the English Premier League and players, provided by Squawka.
The stats section includes information on top European goal scorers and Gillette's team of the week.
Gillette already has an association with football through its partnership with grassroots football organisation streetfootballworld. For every user which registers on the new Gillette YouTube channel, P&G it will give one dollar to streetfootballworld, up to a limit of $3m.
The channel also has an "explore Gillette" section for the channel, with videos of past TV campaigns, information about products and the ability to click through to buy Gillette them on Boots' ecommerce store.
Matt Brittin, vice president of sales and operations at Google, said: "The ever expanding team of YouTube football partners create a diverse and compelling content line up for fans.
"We're delighted to join forces with Gillette to build a fantastic new YouTube experience for our passionate football community."
The channel was developed with Proximity BBDO Paris.
The launch comes shortly after YouTube launched a foreign football league highlights channel by sports media rights company MP & Silva. The Scottish Premier League also recently launched a highlights channel on YouTube.
Meanwhile Budweiser chose football content for the launch of its first ever branded channel on YouTube, as revealed by Marketing.
Follow @shearmans