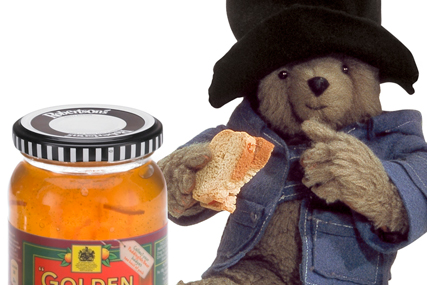 The marmalade-loving children's favourite took off, with suitcase in hand, to Unilever in 2007 as brand ambassador for Marmite for two years.
Paddington Bear is now heading up a new on-pack promotion running across Robertson's Golden Shred marmalades, Premier Foods' Gale's honey and Hartley's No Bits ranges.
He will also appear on the new squeezy Robertson's Golden Smooth marmalade range.
Premier Foods is employing Paddington in a bid to attract a younger audience to marmalade as well as nostalgia-loving adults.
The promotion offers consumers the chance to purchase Paddington badges.
David Atkinson, general manager of Premier Foods spreads, said: "As the nation's fondness for nostalgia continues, the coming together of the two iconic British names, Paddington Bear and Robertson's Marmalade, makes perfect sense."
The licensing deal was agreed with Chorion, which owns the rights to characters including Noddy and Mr Men.