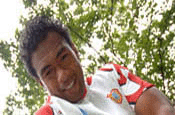 According to reports, an Irish hairdresser has been dyeing the hair of the 22 players ahead of the clash against the reigning world champions in Paris this evening. However, the team has been barred from the stunt, because it would constitute advertising.
Paddy Power is sponsoring the Tongan team for what is reported to be a five-figure sum, and had persuaded one of the players to change his name to Paddy Power for the duration of the tournament.
The player who had agreed to change his name, Epi Taione, was previously in the news when he was handed an 18-week ban in 2006 because he bit Irish player Denis Leamy during a rugby match. However, tournament organiser IRB refused to change Taione's name in the official programme.
A spokesman for Paddy Power said that it had become a joke among the Tongan team that its success in the tournament so far was due to the luck of the Irish, and it had been their idea to dye their hair green.
'It was intended as a bit of fun but the IRB didn't see it that way,' the spokesman said.
Paddy Power has now shipped out a load of green wigs to be distributed to those supporting Tonga in the crowd in Paris.
Tonight's match will be the last appearance in the 2007 Rugby World Cup for one team, with Tonga and England both having two victories and one loss to their names.
Should England progress to the quarter-finals they will meet Australia, who they defeated in the final of the last World Cup held at Stadium Australia.