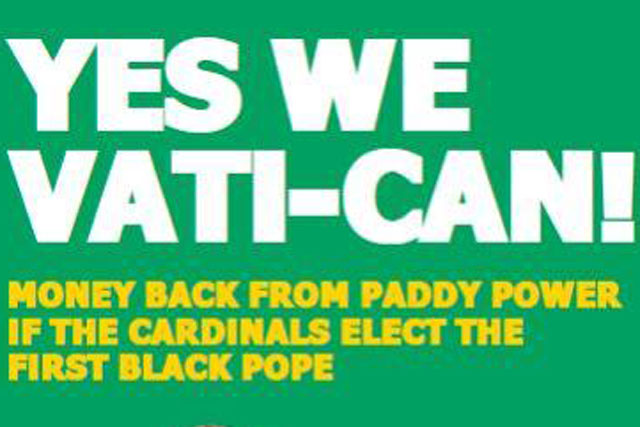 The ads, which have been created in-house, are running across national titles including The Times and the Daily Mail.
Below the 'Yes we vati-can' headline, the bookie promises, "money back from Paddy Power if the cardinals elect the first black pope."
Underneath are images of two of the favourite black candidates to replace Pope Benedict XVI.
The bookie – famous for its tongue-in-cheek ads – is now out in Rome with a betting board showcasing its latest odds on the papal election.
It mirrors a strategy similar to the one Paddy Power adopted in 2005 for the previous papal election, when it took to the streets of Rome.
However, it is thought that Paddy Power is likely to try to top its activity this year, with a spokesman saying "we will be throwing the kitchen sink at it."
The spokesman would not give further details of its plans.
Follow @johnreynolds10