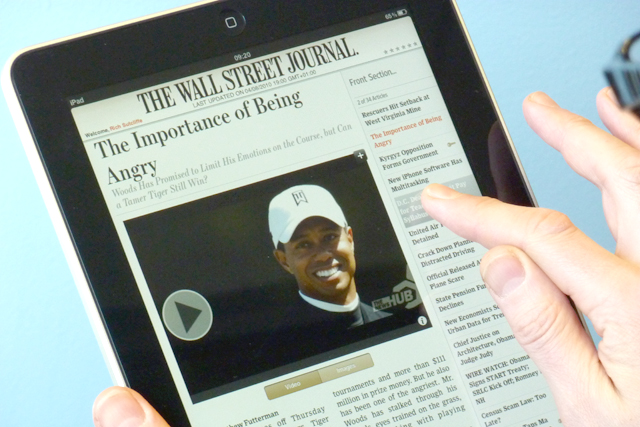 Back in 2010 the UK eagerly awaited the arrival of the new Apple iPad; the first mainstream tablet computer.
Two years on and according to the July 2012 Ipsos MediaCT Tech Tracker more than 1 in 10 consumers now own a tablet in the UK.
With so much choice including different screen sizes, connection plans, resolution, portability and functionality this is no longer a device just for techies and geeks.
Tablets are fast becoming a device for the mass market; 64% are interested in purchasing one in the near future.
At present all tablets are used in the home, with most users optimising their performance via Wi-Fi connection.
Youngsters are streaming videos, on catch up TV and of course gaming, tablets offer the ability to compete in social gaming (eg, Farmville on Facebook) currently unavailable on conventional games consoles.
Interestingly, our research shows that social gaming on tablets has led to an increased level of gaming on other more traditional platforms such Xbox and PlayStations.
The majority of owners use their tablet in the living room highlighting its use as a shared family screen often being used in conjunction with the main shared screen, the TV.
Individuals are no longer consuming media as passively as yesteryear; it's important to be constantly entertained and stimulated, alongside the need and ease to share and communicate whenever they wish, all of this is facilitated by devices such as the iPad.
'Google suggested that over three in four (77%) of viewers now watch TV while using another screen' (Google signals multi-screening shifts, Warc, 31 August 2012)
Of the people who own a tablet 15% take their device on the commute to work, the NRS noted that a record high of 6.5 million adults have viewed either a newspaper or magazine on a tablet, smartphone, or e-reader in the last 12 months.
But it's the tablet that has the ability to really drive this forward, 45% of tablet owners have read newspapers or magazines on their device in the past 12 months, which allows them a new view of their much loved traditional paper.
Unlike the smartphone counterpart the tablet version is considered a less cluttered and congested adaptation, allowing a more intuitive and user friendly experience this demonstrates how successful the tablet has been in driving news consumption from traditional hardcopy to a flat screen.
Tablets are not just a device for personal use; companies and executives are also adopting the device as an important tool in business.
This can be seen among the business elite, those most senior business executives in Europe.
According to BE:Europe 2012 ownership has exploded in the last few months with the most influential members of business needing to constantly stay ahead of the game.
Forty two percent of the business elite in Europe own a tablet device, a year-on-year increase of 75%.
For business executives tablet devices are invaluable, especially when travelling, and allow them to tailor the content they consume when away; on the plane executives are beginning to disregard the in-flight entertainment to watch programmes or films they had previously downloaded.
Similarly, with budget travelling on the rise, consumers are saving on hefty additional luggage charges, and saying goodbye to heavy and bulky books, with 4 in 10 owners taking their tablet on holiday to while away those tedious airport waits and relax with by the pool.
Still, 44% of all tablet users only use it at home which could be part attributed to the previous Wi-Fi only versions and slightly larger screen sizes.
In the future we expect the number of out of home users to rise dramatically thanks to changes in screen size and speed of connection, particularly with the launch of lighter and more portable 7-inch screen versions.
Along with the introduction of Wi-Fi on (part of) the Tube and an increase in soft cell spots (Wi-Fi hot spots), the release of 4G will give consumers much faster internet access, allowing the user the ability to download, view and upload high definition videos and content while on the go.
It remains to be seen how the mobile operators plan to charge for this super-fast data that may dictate actual behavioural change.
Tablets have the potential of being a complete technology game changer; with all the benefits that come with owning a tablet, the question is 'can a household survive with only one device?'
Surely with the children fighting over them or the spouse adopting full rights, the need for sole occupancy of these devices will soon lead to households owning two or more tablets.
Luckily with the market fragmenting and more affordable tablet devices now on sale, multiple device ownership is set to continue to rise.
In terms of purchasing considerations, consumers will be keen to connect both screens making the operating system decision a deal breaker.
Going forward consumers will become more interested in connecting all devices in the household, sharing content, gaming and making a more seamless technological environment.
Mary Fitzpatrick, researcher, Ipsos MediaCT