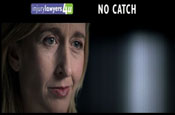 Every year, Marketing's table of the most irritating ads sparks debate over what it means to be irritating, and whether, if the work is effective, it matters; and every year it becomes clear that being annoying can work. Previous table-toppers include such horrors as the Crazy Frog, whose dulcet tones made grown men weep, yet sold mobile ringtones hand over fist.
Surprisingly, despite a host of annoying campaigns debuting over the past 12 months, the three most irritating ads of 2007, as voted for by the British public, are the same as last year. Injurylawyers4u takes the crown for the second year running. Picture the Loan and Cillit Bang, meanwhile, have swapped places in second and third.
This year, for the first time, Marketing asked brandrepublic.com readers to nominate ads for this list. Injury-lawyers4u and Picture the Loan both featured highly, but so did some outside the top 20 such as Head & Shoulders' ad depicting the various hairstyles of 'Mickey', which one contributor claimed put him off buying the product, and that for pasta brand Giovanni Rana featuring a bizarre cameo by Ann Widdecombe.
By contrast, a remarkably low 17% of the public found the Head & Shoulders ad annoying, while the Nadine Baggott-fronted Olay ads, another campaign nominated on the brandrepublic.com forum, scraped in at 18th. Similarly, the MFI ads showing families arguing in a furniture showroom generated hundreds of complaints, with one version banned by the ASA in September, but it weighed in only at 21st in the poll, with 28% of respondents finding the ads irritating.
That these ads did not reach the top of the charts shows a possible disconnect between the marketing community and the public. Maybe UK consumers really do know 'a boy like Mickey' or believe a member of parliament is a suitable spokesperson for fresh pasta. More seriously, it underlines that, however much ads such as the Iceland/Kerry Katona series are panned, they can still do the job if they connect with their target audience.
Another interesting theme in the tables is the specifics of what consumers find annoying. Some things appear perennially irritating - catchy tunes or reworked songs, for example, are well represented in ads such as those for Sheilas' Wheels and Halifax (though both these long-running campaigns received lower scores in this year's table than in both 2007 and 2006). However, a more recent development is that many of the ads at the top of the table are direct-response campaigns, often for services that many find distasteful: lawyers on the lookout for an injury claim, for example, or a loans firm offering credit to already debt-laden consumers.
Yet being loathed also means being remembered, and when buying surface cleaner or suing the council, that is what counts. It is certainly the case for Sheilas' Wheels, which last month topped Marketing's Adwatch of the Year charts with the highest weekly recall score of 2007.
For direct-response ads, memorability - even of the negative variety - is usually the goal. It needs to prompt action, often within 20 minutes of the ad being shown, so an execution that fades into the background will not work. Indeed, Andrew Twambley, senior partner at Manchester law firm Amelans and a director of Injurylawyers4u, describes its table-topping ad as a 'great success'. The firm changed its ads early in the year, but response rates dropped, so it reinstated the cross-examination execution resulting in a surge in business.
'This is direct response in its barest form - another word for irritating is memorable,' says Twambley. 'The people we are targeting - those who have just had accidents - are only a small section of the population. Not many people want our service day to day, so probably find the ads irritating. But those who do need it respond to them.'
With a fresh series of TV executions planned for 2008, Twambley is hopeful the brand will figure highly in next year's league, too. 'The idea for our next advertising campaign is just as memorable - you can't escape it,' he warns.
Ensconced in the table are also some big-name brands and agencies. For the second year running, Phones4U made it into the top five with its WCRS-created campaign. Again, the team behind the ad are unrepentant - Phones4U marketing director Jim Slater even goes so far as to describe it as 'a privilege and an honour to do so well in this poll'. He points to research from Millward Brown demonstrating that the chain had the highest brand communication awareness of any mobile retailer among its target 16- to 34-year-old audience.
'We deliberately target young, heavy mobile-phone users, as they are the most profitable on the high street,' he says. 'They are also the most difficult to reach. In generating such a strong appeal to this audience, there is inevitable collateral damage to our appeal to less valuable segments. We are not in the business of trying to be all things to all men.'
Both Injurylawyers4u and Phones4U have decided to use TV to target niche audiences, and both are adamant the
expense has been worth it. The ads may infuriate some, but as long as they drive sales among the right people, the clients don't care. The ads may not be pretty, but they're working.
To watch the top five most irritating ads click below:
Click here to watch Vox Pops International interviews of members of the public explaining which ads annoy them and why.
Irritating ads
The nation's mosted hated ads from 2007
Question: Which of the following commercials irritated you most last year?
Rank
Brand
Agency
%
1
Injurylawyers4u
The Gate Films
58
2
Picture the Loan
Watson Phillips Norman
56
3
Cillit Bang
Euro RSCG
55
4
Esure
In-house
52
5
Phones4U
WCRS
48
6
Glade Touch `n' Fresh
DraftFCB Paris
46
7
Polaris World
In-house
45
8=
Confused.com
In-house
44
8=
USwitch.com
MCBD
44
10
Iceland
Tom Reddy Advertising
43
11
Sheilas' Wheels
In-house
40
12
TRESemme
In-house
38
13
Halifax
DLKW
37
14
Sun Onine Bingo
Euro RSCG
36
15
Garnier Nutrisse
Publicis
34
16=
PC World
M&C Saatchi
31
16=
Churchill
WCRS
31
18=
Olay Regenerist
Saatchi & Saatchi
30
18=
Daz
Leo Burnett
30
20
DulcoEase
Paling Walters
29
Source: Marketing
The research was conducted 6-10 December by TNS among
1000 adults. The initial 40 ads were nominated by members of
the brandrepublic.com community