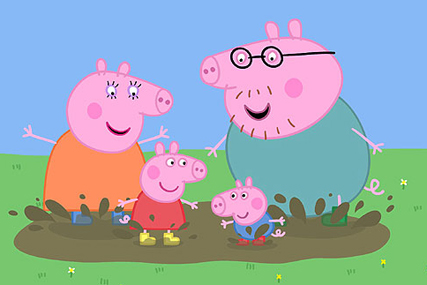 'Peppa Pig' is a popular children's cartoon produced and co-owned by company Astley Baker Davies and shown on TV channels Five and Nick Jr.
It has made over £100m in merchandise sales through licensing, which is handled by distributor and co-owner E1 Entertainment.
Phil Davies, the show's producer, said "From the first day we pitched 'Peppa Pig', we had a clear vision of how merchandising, books, DVD, toys and apparel would work."
According to data from NPD's 2009 Pre-school Toy Market Overview, Peppa Pig toy sales increased by more than 30% in the last year. DVD sales have passed 3m units, with the video game selling 225,000 copies and book sales with partner Ladybird Books exceeding 2m.
Last year, Ladybird together with Penwizard pushed book sales further with personalised 'print on demand' publishing, allowing parents to personalise 'Peppa Pig' books with their child's name as the main character.
"Peppa Pig is every licensor's dream," said Andrew Carley, head of licensing and merchandising at E1. "Six years in, we still have an unwavering commitment to develop the brand and are taking a long-term approach to ensure that Peppa Pig meets its full potential with continual steady growth."
Yoghurt producer Muller licensed the character last year for a promotion for its Little Stars childrens' range.
'Peppa Pig Live', a touring show, will begin later in the year and has over 60 shows scheduled around the country.
Internationally E1 Entertainment are continuing to grow the brand, having sold 'Peppa Pig' to over 180 territories, with merchandising programmes in France, Australia and Poland.
Carley continued: "Our aim now is to enhance the licensing programme by exploring every opportunity to drive growth of the brand in international markets, whilst ensuring that the brand values are central to any decisions we make."