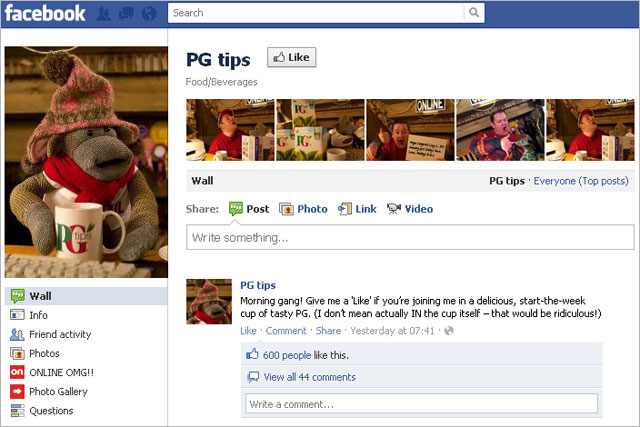 The iProspect Engagement Index shows the level to which people interact with brands on Facebook. It combines the number of "likes" a brand has with data from the "people talking about this" metric, recently introduced by Facebook.
PG Tips scored the highest engagement level out of 250 UK brands measured in February. According to iProspect, nearly two out of 10 of its fans actively responded to the brand's page in a seven-day period, by liking, commenting, posting, responding to polls or sending RSVPs.
Many page posts were themed around the TV creative featuring Johnny Vegas and brand character Monkey.

The posts regularly drew hundreds of likes and comments – the February peak being 1,569 on Valentine's Day. The concept for that post was a simple 'like this post for a Valentine's surprise', which was an e-card from Monkey.
PG Tips was followed by Bang & Olufsen with an engagement level of 12.6%, Jaguar at 12% and Lemsip at 11.4%.
Other brands to make it into the top 10 include Apple, Costa, Google, Adidas, Madame Tussauds and Rolex.
According to iProspect, if these brands' engagement levels were measured by fans alone they would have scored lower levels, ranging from 1%-5%.
Social media measurement is still very much in the nascent stages, with "likes" and "followers" being the most-used metrics.
However the industry has been calling for better ways to measure social media, since user bases are often bought, making it difficult for brands to understand the true value of a "like".
Angus Wood, group director for paid social media at iProspect, said brands are coming to recognise that "engagement is as important as fan acquisition."
He said: "It's easy to go out and buy 'fans' with short-term competitions and other fan-bait, but if those users never return, and never interact with the brand's content, it's not an efficient investment."
Interactive: Hover over the graph to see figures