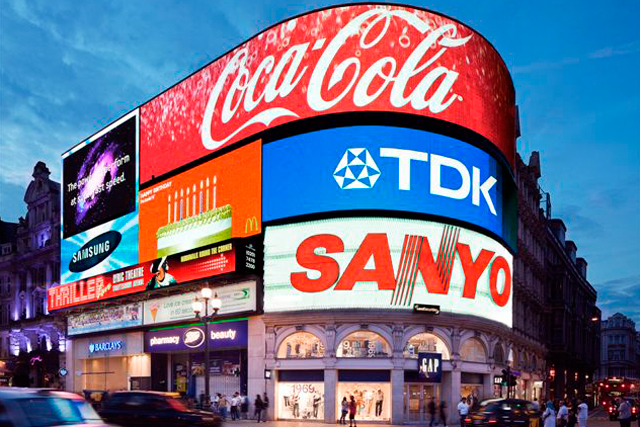 The move will allow a new brand to take over and update the Sanyo site, which is passed by an estimated 56 million people per year, with an LED screen.

The Sanyo sign, situated on the bottorm right, is the only neon-lit example left out of the six displays that overlook the statue of Eros.

TDK updated its neon sign in 2010, adopting LED as had the three other long-term brands: Coca-Cola, McDonald's and Panasonic.

The bottom left of the six panels was occupied by Budweiser until 2007, when it was replaced by the long Picadilly Lite LED screen, which can be booked for short campaigns through Clear Channel.

The last time a new brand arrived on the site was in 1994, when Samsung took over from Panasonic, after TDK took over from Kodak in 1990.
It may be Sanyo's progressive absorption by Panasonic, ironically, that is behind its forthcoming disappearance from the site.

Coca-Cola has been on the display since 1955 and McDonald's since the 1980s.

Sanyo has occupied its current site since 1984 and it took its first sign in 1978.

The Piccadilly Lights have been owned by commercial property group Land Securities since the 1970s.

Tim Allibone, asset manager for the London Portfolio at Land Securities, said: "This really is a very rare opportunity for a brand to become part of the London landscape.

"Whoever is fortunate enough to secure the available space, will benefit from a huge influx of tourists anticipated to come to London in the next couple of years in addition to the usual 56 million pedestrians and passengers which pass by every year."
The 56 million figure consists of 34 million pedestrians; 17 million people in coaches; 2.6 million taxis and 2.4 million cars.

The retail units below the site are currently occupied by Boots, Gap and Barclays.

Another brand displayed in Piccadilly Circus is LG, the South Korean electronics manufacturer, which in 2007 took out a seven-year tenancy opposite the Piccadilly Lights and installed a curved LED screen.

The Picadilly Lights have showcased 50 brands in just over 100 years of existence, including BP, Carlsberg, Foster's, Guinness, Kodak, Gordon's, Max Factor, Nescafe, Schweppes and Volkswagen.

The first brand to appear in illuminated lights was Perrier in 1908 and the first to appear in neon was Bovril.