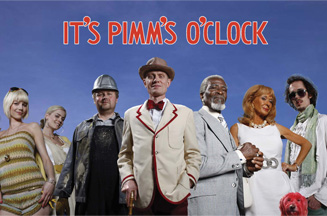 'We have now decided to refresh the brand's marketing activity and move away from the 'Harry' character, as a consequence of which we're no longer working with Alexander. Our relationship came to a natural and amicable conclusion and we wish him every success in the future', said Pimm's in a statement.
Diageo GB will now invest £1.4m into a new TV ad campaign breaking tonight and runs until the end of August. The ad features an eclectic group of people at a BBQ sharing a jug of Pimm's.
Separately, Pimms will not sponsor any festivals this summer and has dropped its Pimmsfest comedy event which it launched in 2008. 'Whilst Pimm's will not be sponsoring any festivals this summer, it will still have a presence because the Pimm's bus will be attending as many, if not more, events this summer than it has in previous years. Instead of managing the Pimm's bus in-house we are 'lending' our bus free of charge to caterers and promoters to run as a mobile bar', said Kshitij Desai, Senior Brand Manager for Pimm's at Diageo GB
According to Diageo, the drink has seen 15% growth over the past three years.