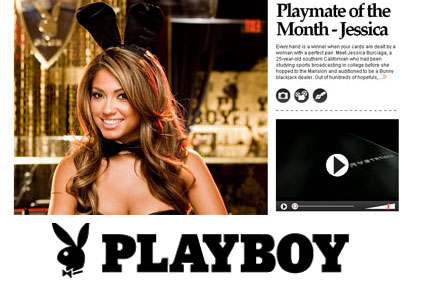 The clothing range for men and women will feature vintage-style and jersey T-shirts, hoodies and tracksuits.

The collection launches in partnership with Fashion UK, a company that specialises in licensed apparel.

Adrianna Chinnici, vice-president, licensing, Playboy Enterprises, said: "We are excited to partner with Fashion UK, a well-established company that has specialized in licensed apparel, specifically fast-fashion, for many years."

The new clothing line launches in August.
Playboy chief executive Scott Flanders stated, after announcing the company's results last week, that Playboy intended to become a "brand-management" company and outsource some of its operations to other companies, adding that the company's licensing segment was its most profitable.
Playboy reported a first-quarter loss of $1m last week, an improvement compared to a loss of $13.7m in the first quarter of 2009. The results included a $1.1m restructuring and impairment charge.
Revenue fell 15% year to $52.1m, which the company said was mainly due to "changes implemented to improve the profitability" of Playboy magazine.
The company's digital and print unit, which includes the magazine, had a loss of $1.1m, a drop on its $3.6m loss a year ago.
Income at the company's licensing segment, which is responsible for placing the company's iconic bunny-ear logo on a range of items from T-shirts to jewellery, rose 17% to $6.5m in the first quarter.