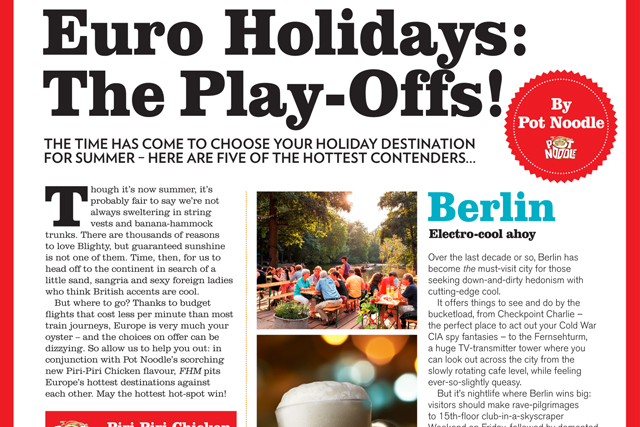 The campaign will promote Pot Noodle's strapline, "Peel the top off a hottie", across Bauer Media's 16 Passion and Place stations, such as Kiss UK and Kerrang!, as well as in FHM magazine and online.
The deal was brokered by the Bauer Access multiplatform team and will run for four weeks starting from 1 July.
The radio campaign will deliver national coverage and encourage listeners to visit www.potnoodle.com, where they can enter a competition to win an all-inclusive Ibiza holiday for two.
Pot Noodle will also sponsor Kiss UK and Kerrang! every Friday evening for the duration of the campaign to reach an even greater section of its target audience.
The print aspect of the campaign will include a three-page "Peel the top off a hot weekend" holiday guide feature in FHM, showcasing five of Europe's hottest destinations.
Each destination, including Split, Riga, Berlin, Lisbon, as well as Ibiza, will be rated out of five for their nightlight, culture, food and "hotties". Readers will be prompted to enter the competition at Pot Noodle's website.
The activity will be supported by homepage takeovers and video MPUs on FHM's website, which will host Pot Noodle's new TV ad for Piri Piri chicken.
Karen Stacey, the director of broadcast sales at Bauer Media, said: "The Bauer Access team has expanded the communication for this campaign across radio, print, digital and social, providing great synergy between the Pot Noodle 'peel the top off a hot weekend' creative at the perfect time when our radio audiences are getting exciting about their weekends."