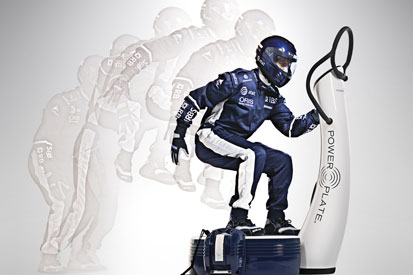 The brand, which manufactures gym equipment, has previously relied on endorsements from celebrities including Dannii Minogue and Courteney Cox to target women, who are the most frequent users of its products.
The latest activity is intended to capitalise on Formula One's huge global fan base, which is male-dominated.
Power Plate will be able to use Williams drivers Rubens Barrichello and Nico Hülkenburg, as well as the team's crew, within its marketing.
As part of the change in approach, Power Plate will shift its focus away from endorsements to concentrate on gaining brand recognition. Male-focused marketing will promote its affiliation with the racing team.
The company will roll out experiential work to educate consumers about the brand, with national press ads supporting the activity.
Nilesh Pandya, executive vice-president of Power Plate, said: 'The strategy is to be less about PR and more about experiential activity. People are aware of the brand, but until they try it they are sceptical.'
As part of the F1 deal, Power Plate will launch a co-branded Williams training device. An attendant push will also promote the recently launched Pro 6 Plate machine, its first aimed specifically at men.
According to the brand, the deal was a natural partnership because both Williams and Power Plate rely on 'cutting-edge technology'.
Power Plate, which has a presence in retailers such as John Lewis, will also use the marketing activity to increase its presence in the B2B market. It already supplies equipment to the Virgin Active gym chain.
Meanwhile, the brand is installing a 'Fit Stop' at the Williams headquarters in Oxfordshire to encourage employees to do a quick workout when they have a few minutes to spare.
A Power Plate spokesman claimed the concept is a good fit for the brand as regulations this season prevent F1 teams making fuel stops during the race. This places greater emphasis on the fitness of the pit crew because the mar­gin for error is much smaller.