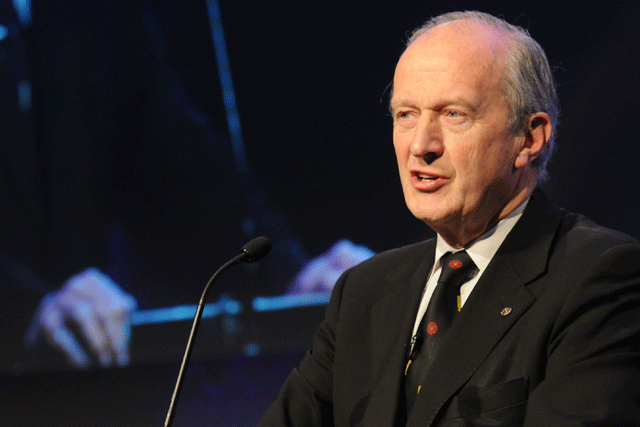 The shape and nature of any new-look PCC to emerge after the News of the World's phone hacking scandal is among the key concerns of the ongoing Leveson Inquiry.
Much of the debate has centred around how you can make sure all major publishers agree to be governed by any new press regulator, without resorting to statutory regulation.
A Parliamentary Joint Committee, chaired by MP John Whittingdale, floated the idea in March that advertisers could help bolster the PCC through adopting a kite-mark type system, that would show support for publishers included among its membership.
Speaking at the PPA's Publishing+ conference today (9 May), Lord Hunt conceded such a mechanism could prove useful, but only in addition to his own suggested new powers for the PCC, including the ability to fine offenders.
He said: "At the end of the day what I want to do is not try and bribe the industry into this new system, with incentives.
"I just want to achieve a consensus that everyone wants, to move forward together."
Pressed on whether the exit of Richard Desmond's Northern & Shell from the PCC at the start of 2011 suggested such advertiser support might be necessary to maintain a consensus, he said. "Yes, I'm not disagreeing… but I would like to not to have to resort to those incentives, let them follow, but let's do this together.
"I don't want anybody thinking they can opt-out… I have seen all the [publishing] giants, and they have all said 'good on you, get on with it. We'll sign-up'."
Magazines, the embodiment of freedom
Earlier, Lord Hunt had praised magazine publishers for their "incalculable contribution to public life in the UK".
He said: "The huge and diverse array of titles you provide, inform both consumers and industry and it is crucially important to the PCC – and to the country – that so many of those titles sign-up to the Editors' Code of Practice.
"…I have always been passionate about freedom of expression, and magazines are the embodiment of why that freedom matters."
Lord Hunt admitted that while the crisis that had led to the setting up of the Leveson Inquiry did not originate within the magazine industry, "you will inevitably be affected by changes to regulation".
He told the room of more than 300 publishing executives that it was "not all bad news", however, noting if re-imagined properly "the new regulator will be not only the scourge of bad, irresponsible journalism – but also the candid and supportive friend of good, robust, fearless journalism".
Lord Hunt once again stressed his case for a new system of self-regulation that will be "demonstrably independent, effective and robust".
He said calling the previous incarnation of the PCC a regulator had been a misnomer, as it had been "severely criticised for not exercising powers which it never had in the first place".
Highlighting the proposals he had first unveiled on 15 December 2011, for a new PPC "with teeth", he said they had received unanimous agreement amongst PCC Commissioners.
Among them is that any new system is legally underpinned through enforceable contracts with publishers, which would enable the PCC to sue for any contractual breaches.
However, the PCC's fate must now wait for Lord Justice Leveson's recommendations, something Lord Hunt recognised as he heaped on the praise.
"I do want Lord Justice Leveson to receive full credit for the considerable amount he has already achieved," he said. "…It is no exaggeration to say that Lord Justice Leveson's Inquiry has already changed the media landscape – incontrovertibly, I hope irreversibly and definitely for the better."
He went on to add: "In the background of course is the threat of a statutory regulator, operating with the full force of law and funded by a statutory levy.
"In my opinion that would be inimical to freedom of expression. I am against further political or legal incursions into the realm of free expression, given that existing laws on corruption, bribery, defamation, contempt of court and privacy are more than adequate, if enforced.
"Surely we do not want politicians controlling the media?"
Desmond did more damage than phone hacking
Lindsay Nicolson, editorial director at Hearst UK and a key magazine representative on the PCC, was also on the PPA panel today.
She had particularly harsh words about the role Richard Desmond, owner of the Daily Express and OK!, had played in creating the current soul-searching. "I think it was his [Desmond's] withdrawal from the PCC that has done more damage, certainly to us in magazines, than the phone hacking, which was primarily a newspaper issue," she said.
Believing statutory regulation "would be a tragedy", Leveson warned: "We've already got some of the most draconian libel laws in the world, to such a state that we have libel tourism, people come to pursue libel cases in Britain because of the very large tax free damages that you get in this country.
"We've got some of the most draconian contempt of court laws in the world, which curiously, because they are so draconian, aren't actually exercised very often."
"I don't think these forms of statutory regulation are particularly helpful, I don't think they particularly raise the image of British journalim in the world, and I don't really want to go down another, third route of statutory regulation. I think we [as an industry] can do it better, but we all have to be in it together and it breaks down if we're not all in it."
Also present, Nicholas Coleridge, president and managing director of Conde Nast International, noted: "There's a long, long history of Richard Desmond falling in and out of different bodies and joining things, and resigning from things and taking umbrage, and so it's gone on. And that is the nature of Richard Desmond."
Follow Arif Durrani on Twitter @DurraniMix