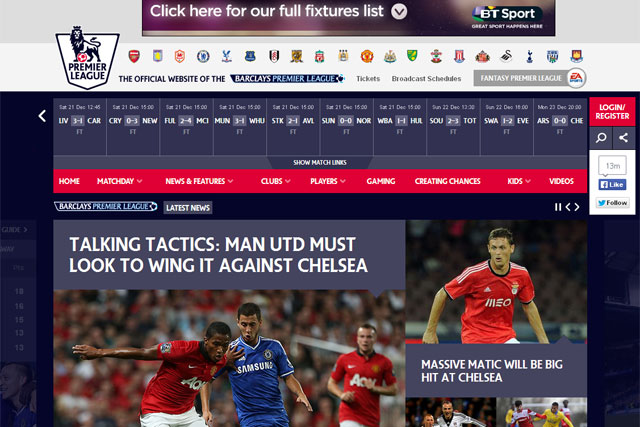 The contract covers the Premierleague.com website and mean advertisers will be able to advertise ahead of current and archive video footage from the Barclays Premier League as well as book special formats like homepage takeovers.
Standard formats will also continue to be available on Premierleague.com, which claims to attract 12 million unique users per month and will be available in six different language versions.
Richard Masters, the director of sales and marketing at Premier League, said: "Since Perform assumed responsibility for media sales across the Premier League's official website, the company has demonstrated its ability to attract the most relevant major brands as advertisers and enabled us to meet our objectives.
"We look forward to further success together over the next three years."
In addition to handling the ad sales for Premierleague.com, Perform produces and distributes near live highlights from Premier League football matches to its mobile and digital partners around the world.
Jamie Wilson, the managing director for sales in the UK and Northern Europe at Perform, said: "With all eyes on football ahead of the World Cup in June, we are delighted to extend our partnership with the Premier League to provide advertisers with a number of engagement opportunities that enable them to reach a highly specific demographic of fans of the English game."
David Surtees, the chief finance officer of Perform, quit the FTSE 250 digital sports company last week after the company issued a profits warning in December last year.
Follow @MaisieMcCabe