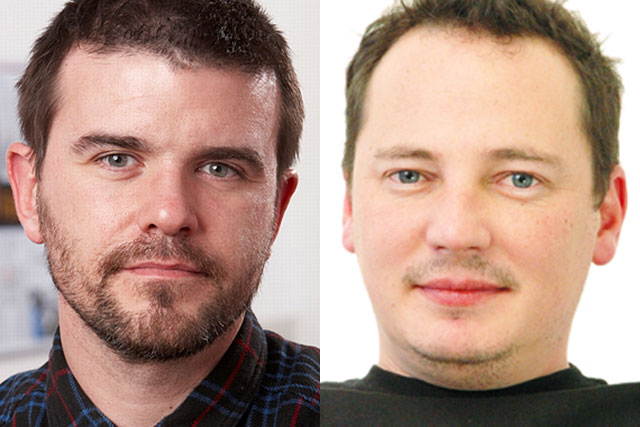 Andy Bird, executive creative director, Publicis London

Mark Orbine, creative director, VCCP

I spend an unhealthy and disproportionate amount of my life listening to talkSPORT (or talkSH*TE, as my better half likes to call it). So I hear a lot of radio ads - some good, some plain awful. And I have noticed over time that, especially on talkSPORT, much like the notion of dog-owners looking like their dogs, the ads on a radio station can start to sound like the presenters.

Shouting ads barking repeated messages from tool shops or plant-hire companies morph into shouting presenters barking about Grimsby's latest signing or the unfair amount of pressure put on managers these days. Meanwhile, in the next breath, the presenter introduces a feature called The Sack Race where their listeners can bet on who is going to get the sack next, or not (I'm looking at you, Micky Quinn of Weekend Sports Breakfast).

Anyway, I digress. Though this month's batch of radio ads feature two football-related spots that I'm sure I will be hearing over the next couple of months on talkSPORT.

The first I listen to, from Freeview, invites us to "see sport in every detail" and describes in close detail the experience of watching footy on Freeview. Surely actually going to the match is the best way to experience football? Unless you are a part-time Orient fan, in which case it's best not to experience it at all (especially for £28 and no concessions, Mr Barry Hearn). I do like this ad. It's intelligent, nicely written and well-observed. Lovely.

Kleenex asks us to have a good cry over England's departure from Euro 2012 (I was crying with laughter). It's an OK spot, but I don't think anybody will be shedding a tear for footballers this season after the Herculean efforts demonstrated by the state-school-educated Olympic heroes of Team GB. And those Olympic heroes who learned how to mess about in boats, horse-prance and shoot tigers at Eton, of course.

Moving away from football but staying with tears, Phones 4u instructs a woman bawling her eyes out that anyone can upgrade their phone with them no matter who they are, even if she or her mates are 148th in line to the throne. Or a Scorpio. Or drive a hybrid. Even if they've never been to a Phones 4u before. I've always liked this campaign on TV and, even though this is basically just an idea lifted from TV and stuck on radio, I like this too.

The Greater London Authority tells us that the Mayor of London has put the world's arts right under our noses. Really? I'd like to stick a closed library up his.

In contrast, Gocompare.com continues to "save the nation" by attempting to do away with that opera singer from those TV ads. He's still not dead, though, as in this ad, Stan, a van driver with a Runcorn accent, offers to repay Gocompare for sorting him out with a good deal on his van by doing away with Fatteroti. I like the idea of a bartering system that involves killing people for favourable insurance tips.

And, finally, Vodafone advertises its One Net business offering by telling us a story about a beaver who ...

Hang on a moment, I'll listen to it again. No, still doesn't make any sense. Is there some gag in there about getting at someone's beaver? Dunno. Read the script on the next page and, if you can make any sense of this one, well done!




To review these radio ads, I've decided to try to recreate the exact, real-world conditions in which most people will hear them.

So I've uploaded them to my iPod and am playing them through my crappy car stereo. My five-year-old daughter is in the back of the car singing The Edge Of Glory by Lady Gaga at the top of her voice, over and over again. Meanwhile, the M4 between Reading and Bristol is free-flowing (probably not normal test conditions, but what the hell ...).

First up, I hear about a chainsaw-wielding beaver. Great start, but now my daughter's reaching her crescendo, which is more than a little annoying. I try to focus on the voice that tells me that, apparently, this North American Beaver has the edge over other lumberjacks. Solid logic, I think - I'm still with you... just. This is the kind of edge Vodafone One Net gives your company, apparently. Thank God the traffic isn't bad as this analogy nearly lost me.

Next up is a guy called Stan who drives a van. Having got a good deal on his car insurance from Gocompare.com, he can, thankfully, shift anything. Even that awful, irritating opera singer from those TV ads. Well that made me listen, and I even warm to the geezer as he has virtually admitted on radio that he'll carry a corpse of that unlikeable fool. But my ears and eyes are now back on the road.

Moving back to the slow lane, I hear the next ad. Freeview wants you to know that, with them, you can enjoy the exquisite detail of summer. A sports commentator talks us through a game of footy on a beach describing in minute detail what happens as someone kicks an inflatable football that inadvertently makes a man drop his beef and onion pie. That's what catches my ear, to be honest. Because I love beef and onion pie. I remembered both it and the ad's message. Job done.

Next, a 30-second message from the Greater London Authority. A lady is worried she has something stuck under her nose. Relax, it's not a bogey, just a list of events that the Mayor of London has put on for us to enjoy throughout London 2012. Its a great line-up. Right under your nose. Geddit? I lose interest at that point as my daughter drops her felt-tips down the side of her chair.

As my wife tries to retrieve the colouring pens, Kleenex is reminding me that, sadly, England's 2012 Olympic Games journey is over and it's time to wipe those man-size tears away with a box of Kleenex Mansize Compact tissues. London 2012 was a triumph - I will miss it. But I'm not sure I'll be reaching for the Kleenex to ease my woes. And the inexplicable pizza reference is completely lost on me.

Finally, anyone can upgrade their phone at Phones 4u. Even if you're a Capricorn, drive a hybrid car or are 147th in line to the British throne. I can't hear the end as my daughter is now so distraught that I have to cheat and listen again a little later. And, when I do, it's just what I thought. They will upgrade anyone. But I'm having such a lousy journey now that I can't bring myself to care. By now, I've lost the battle for the iPod. So, instead, I agree to stick on The Best Of The Wiggles. Peace is restored.
1. GOCOMPARE.COM
Project: Stan
Client: Nick Hall, marketing director, Gocompare.com
Brief: Increase brand likeability
Agency: Dare
Creative team: Colin Smith, Angus Vine
Producer: Barnie Stewart
Sound studio: Scramble Soho
Engineer: James Lyme
Campaign exposure: National radio

2. PHONES 4U
Project: Tearful
Client: Caspar Nelson, head of brand communications, Phones 4u
Brief: Promote Phones 4u's upgrades
Agency: Adam & Eve/DDB
Creative team: Matt Woolner, Steve Wioland
Producer: Victoria Keenan
Sound studio: Factory Studios
Engineer: Sam Robson
Campaign exposure: TV, radio, print, online, outdoor, in-store

3. GREATER LONDON AUTHORITY
Project: Under your nose
Client: Dayna Slate, senior marketing manager, Greater London Authority
Brief: Get people to go to Showtime cultural events across London this
summer
Agency: St Luke's
Creative team: Ed Redgrave, David Wigglesworth
Producer: Jessie Middleton
Sound studio: Grand Central
Engineer: Munzie Thind
Campaign exposure: London radio

4. KLEENEX
Project: Dry your eyes
Client: Johnny Poole, brand manager, Kleenex, Kimberly-Clark
Brief: Proactive idea by Global Radio to promote Kleenex Mansize Compact
by tapping into the nation's mood post-England v Italy at Euro 2012
Agency: Mindshare
Creative: Jonathan Wood
Producer: Justin Sanders
Sound studio: Global Radio
Engineer: Justin Sanders
Campaign exposure: Heart network, Capital network

5. VODAFONE IRELAND
Project: Beaver
Clients: Anne Mulcahy, brand director; Mary Connolly, enterprise brand
manager, Vodafone Ireland
Brief: Launch Vodafone One Net - a unique product that combines landline
and mobile phones
Agency: Grey London
Creative team: Simon Brotherson, Alex Tizard, Jonathan Rands
Producer: Richard Donaghue
Sound studio: Greyworks
Engineer: David Lazaro
Campaign exposure: National radio

6. FREEVIEW
Project: Extra detail
Client: Guy North, marketing communications director, Freeview
Brief: Showcase Freeview's offering of an unprecedented summer of sports
- all in HD
Agency: Leo Burnett London
Creative team: Mark Franklin, Rob Tenconi
Producer: Adam Furman
Sound studio: Factory Studios
Engineer: Sam Robson
Campaign exposure: Radio
Add to Private Hear showcase