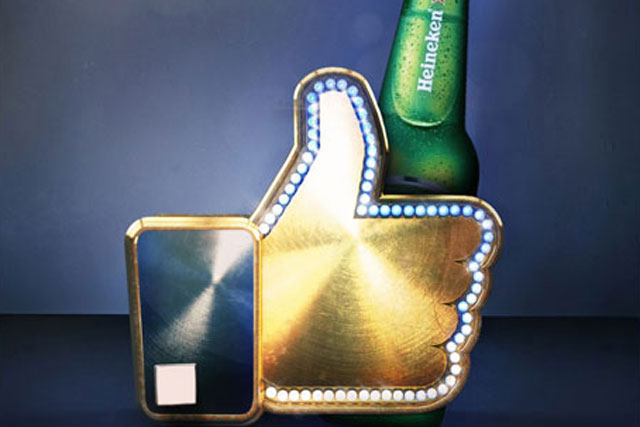 If its impending IPO and $100bn (£63bn) valuation weren't proof enough of eight-year-old Facebook's maturity, there is plenty of other evidence to show that the social network has passed a significant milestone.
In September and December 2011 respectively, Diageo and Heineken inked large-scale direct deals with Facebook. These global partnerships are substantial media buys – Diageo's for $10m and Heineken's for an undisclosed sum – but they are much else besides.
They guarantee the drinks brands' strategic and tactical assistance from Facebook, early access to new products and, potentially, some influence over its development.
Other major brands have taken a similar route, with less fanfare. Procter & Gamble, American Express and Walmart are said to have access to a so-called "SWAT team" of experts from Facebook's marketing, research and engineering groups.
Carolyn Everson, Facebook's vice-president of global ad sales, has said: "When I see a client that shows they can really think differently about their business, I marshall my resources and give them a team of our best thinkers in the areas they need."
The fact that such progressive clients tend to be big advertisers is, presumably, not beside the point.
From a pure media point of view, all this puts Facebook in a bracket with other historical media owners that have been sufficiently pivotal to deal direct with the biggest clients, from the powerful TV sales houses of the 1980s onwards to Google today.
"Facebook has changed so much in just a few years," says glue Isobar's executive creative director, Seb Royce. "Now that it's an always-on social feed on an enormous scale, this is the next thing in the cycle – brands doing global deals.'
Exclusive access
Social media, needless to say, is not a plainly traded commodity in the vein of TV or outdoor, and that's partly why Facebook's new deals are particularly interesting. As Heineken's global head of digital media, Floris Cobelens, points out, a brand cosying up to Facebook receives much more than bulk discounts.
"It's not a straightforward media deal," he says.
"In the end, it's not about money, it's about being effective. It's about helping us use Facebook in the best way, and it's about innovation. We are involved with how the platform is changing and developing at an early stage, and that is really helpful.'
Facebook's super-clients have hotlines to all sections of the company's business and privileged access to new features. Heineken has a centralised global relationship with the social network, as well as specific ones in major markets, geared to localising worldwide campaigns and initiating occasional single-territory ones.
But even globally, it passes all its campaigns by Facebook at the earliest possible stage, 'to make sure everything we do is social at its heart,' says Cobelens. 'Social is not about using our traditional content and adding it to Facebook.'
Heineken is the biggest beer brand on the network, with around six million fans. As Cobelens points out, if those six million each has, say, 150 friends, then the benefits of shareable content are enormously magnified.
He says: "One of the criteria we have for agencies when they come up with a proposal is: 'why would I share this?' We aren't just developing campaigns for the people we send them to – we are developing them for the friends of those friends."
We can expect many more marketers to start talking like this as the school of Facebook extends its influence through other industries.
Heineken talks internally of Facebook as a social "university"; Diageo has reputedly sent 950 marketers to the network's "boot camps". In such relationships, Facebook isn't so much a digital agency by proxy, as an expert guide to itself, which means the campaigns on which it consults are more likely to be structurally different than creatively so.
"It's best to go to Facebook with the outline of a concept, and they can tell you whether it's possible, rather than going with nothing and saying, 'tell me about the site'," says glue Isobar's Royce.
As a consequence, agencies and technology suppliers appear to have relatively few concerns that the social network might have designs on their patch (see below).
A threat to agencies?
Tom Huxtable, director at social technology company EngageSciences, one of Facebook's preferred developers, says: "For Facebook, packaging up $10m of advertising is pretty straightforward. Delivering that advertising is a whole different labour-intensive ball game, and honestly, I can't see the revenue stream in that for a company of Facebook's size."
For media agencies, potentially cut out of the biggest Facebook ad deals, there are fewer words of reassurance, although even were the social Titan to sell all its space direct, there would remain plenty of other planning and buying to do, digital and otherwise.
More significant, perhaps, are the implications of Facebook's brand relationships for the integrity of the social network itself.
In June last year, Facebook began to assemble a "client council", appointing Nick Brien, chief executive of McCann Worldgroup, and Wendy Clark, Coca-Cola's senior vice-president, integrated marketing. It has since added Diageo chief marketing officer Andy Fennell and Heineken chief commercial officer Alexis Nasard.
Such moves demonstrate Facebook's commercial priorities to those scrutinising its IPO. However, they could also be construed as a threat to the site's friend-driven ecosystem, as they clearly indicate that the 845 million active users of the service are no longer the only ones to whom Facebook answers.
"'You would imagine that brands on this client council would be exerting some sort of influence over the products Facebook is going to provide," says Allan Blair, director of social media at DDB UK.
"That kind of flies in the face of the way Facebook has been doing things up to this point, which has been all about the platform and the users."
It is clear that Facebook is finding its bearings in the advertising world. Agencies report a marked improvement in access and shared insight since they met programmers and global heads at Facebook Studio Live last September.
They may not be the most social creatures in their public pronouncements, but most agencies agree they are patient and helpful. "That is definitely in their interests," says Cobelens, a little wryly. "What they want is to enable us all to use their platform in the best way possible."
What's in it for...
Creative agencies
Agencies follow where clients lead, but there is little indication that Facebook wants to supplant either digital specialists or ad agencies. Its platform needs more interesting and innovative content than it could create itself, which is why it operates a programme of preferred developers, towards which it can point clients in need.
While it will inevitably take more interest in some brands' accounts than others, its main commodity, besides its 845 million users, is insight on how to reach them – and there's not necessarily an indefinite supply of that.
"We can't do it for everyone – we are a small company," says Carolyn Everson of Facebook's so-called "SWAT team" of marketing, research and product experts.
Media agencies
These are the main losers in a direct-deal scenario, although a comparatively new breed of Facebook media specialist has moved in, carving a margin out of improved return on social investment. London-based TBG Digital is foremost among these and now maintains offices in Sydney, San Francisco and Paris. Founder and chief executive Simon Mansell concedes that conventional media agencies are more vulnerable than creative agencies or technology specialists in the current climate of socially driven change.
"Change creates the chance for innovation," he says. "Innovation is most disruptive for the larger, slower companies and there is a high concentration of these types in the media agency area."
All the same, Mansell doubts that a few big Facebook deals will dramatically shift the supply chain. "Facebook is not trying to cut anyone out," he says. "Clients will still have agencies of different sorts as they have for the past 100 years or so. Clients choose good agencies based on the value they deliver over time, and this will be based on data insight and technology."
Other platforms
The bulk-buying model merely brings Facebook into line with other media powerhouses, such as ITV and Google, but while Facebook is riding high and apparently unassailable, it remains a young business built on phenomenal consumer shifts. It knows all too well that its traffic can go as quickly as it came, particularly with platforms such as Google+ gaining traction. Which is why, as a business, it continues to hurtle forward, attempting to outpace its digital rivals.
"They can't afford to sit still," says glue Isobar's executive creative director, Seb Royce. "That is why there is such a big sense of evolution in all they do."
How Diageo's Facebook deal works in practice
Diageo's Facebook activities are said to have boosted US sales of its brands by as much as 20%, leading to last September's $10m advertising deal, which Diageo's vice-president of marketing innovation, Venky Balakrishnan, describes as "a truly global partnership".
The spread of the "boot camps" Facebook has run for Diageo marketers bears that out, as well as supporting theories that Diageo is particularly interested in using Facebook to penetrate developing markets such as Brazil and South Africa.
"The boot camps were held across the world, not just in the US," says Balakrishnan. "Over 1,000 marketers attended a full immersion in London, Dublin, Amsterdam, Bali, Sao Paulo, New York and Cape Town."
Balakrishnan says Facebook and the drinks brand owner adopt a similar working relationship across all their markets, with a dedicated team within the social network working alongside Diageo's in-house marketers and agencies. "In each region, Diageo's activity is in line with the size of our business," he adds.
Smirnoff, Captain Morgan, Baileys, Jose Cuervo Margaritas and Crown Royal were the Diageo brands that particularly benefited from the Facebook work. Balakrishnan says Smirnoff has gained exposure via campaigns such as the Facebook-driven Nightlife Exchange Project, which allows clubbers to share ideas about "the best night out". Last year, the campaign ran in 50 cities worldwide, using radio-frequency identification (RFID) wristbands in some areas to enable revellers to log in to Facebook while attending Smirnoff-sponsored events.
Balakrishnan says:"Social works particularly well when campaigns encourage consumer participation. The more participative the activity, the better the fit with social media."
Such activity, however, is not without controversy. The month before Diageo inked its deal last year, UK charity Alcohol Concern warned that under-age Facebook users could easily be targeted by drinks firms if they lied about their date of birth when signing up.