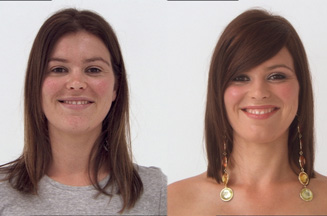 The 'Max Factor Makeover Break' takes the form of a 'real-life' makeover show, comprising three 90-second spots shown over consecutive ad breaks. It will feature Max Factor cosmetics, Olay skincare and the Aussie and Clairol Nice 'n Easy haircare ranges.
The ads, by 4Creative, show a consumer called Lesley, who was chosen via a competition, being made over by experts using a range of P&G beauty and grooming products.
The 30-year-old, an engineering manager who says she does not usually wear make-up, is given a 'glam new look'.
Experts also appear in the ad. These include Max Factor make-up artist Caroline Barnes, celebrity hairdresser Sean Tetlow and Grazia style director Paula Reed.
P&G trialled a similar format in the US and found the method increased consumers' intent to purchase to four times that of traditional ad spots.
'This is a new type of campaign,' said Roisin Donnelly, P&G's director of marketing in the UK and Ireland. 'The star is a genuine consumer, and it's almost like an intimate documentary.'
The ads, which will run throughout June, will be supported by a microsite featuring behind-the-scenes footage and additional beauty tips.