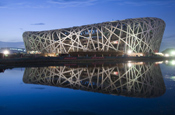 Persistent disruption to the Olympic torch relay has been followed by an open letter in which 150 activist groups claimed that sponsor, Coca-Cola, will be 'complicit in a humanitarian disaster in Tibet' if it fails to force the International Olympics Committee to direct the relay away from the territory.
Last week, pressure group Dream for Darfur published a sponsors' 'report card' in which it awarded 'low grades' to 16 sponsors it argued have failed to help bring security to the Sudanese region.
Hartmut Zastrow, executive director of Sport+Markt, warned that sponsors could not properly activate Olympics-related work in the current climate. 'No sponsor could possibly exploit the Olympic spirit in their campaigns right now, except in China,' he said.
Earlier this month, Coca-Cola scaled back its promotional activity surrounding the Japan leg of the torch relay. A spokesman said that heightened security had made it unrealistic.
Bob Heussner, senior vice-president of Games marketing at Octagon, said: 'This is a critical time for the torch relay and the Games. It is a time for cool heads and reasonable judgement. 'The next four to five months have the potential to be extraordinary, and marketers need to be in tune. I would advise sponsors to curtail their [activity around the torch relay].'
However, Zastrow said that the Olympic Games have always been a platform for discontent and did not believe the negative publicity would have an impact on the associated brands' long-term reputation.
'At the moment China is still the villain in the eye of the public,' he added. 'Olympics sponsors have never suffered [damage to their] image. Consumers can distinguish between the poli-tical situations of host countries and the engagement of a sponsor in a great international sporting event.'