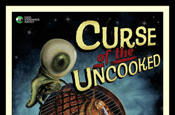 The campaign consisting of posters and leaflets as well as digital banners aims to educate families on the best ways to avoid food poisoning by the four Cs; cooking, cleaning, chilling and avoiding cross-contamination.

James Brandon, the head of marketing at the FSA said: "Although people think they know what they should be doing in the kitchen, there are still around 850,000 cases of food poisoning each year in the UK; and in about 500 cases, people die as a result."

Taking on a 50s horror film theme, the FSA "Germwatch" poster ads gives a fearsome character to germs found in the kitchen, reinforcing the tagline: "Don't make your mealtime a horror story", demonstrating the importance of food safety and hygiene in the home.