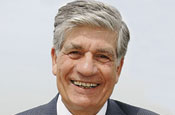 The company said that the weakness of the US dollar had contributed to the fall in profits, the company's first since 2006.

But chairman Maurice Lévy said the group was well placed to beat growing global financial uncertainty.

He said: "In a somewhat depressed world economy, and against a backdrop of financial unease, we have every reason to believe that we can better resist by virtue of our strong positions in high-growth markets and sectors.

"We are cautiously and reasonably confident in our expectations for the second half of 2008."

The company announced that in the first half of this year, digital businesses accounted for 18.8% of the group's revenue compared with 12.7% in the same period in 2007.

This follows Publicis Groupe's launch of a new digital division, Vivaki, in June.