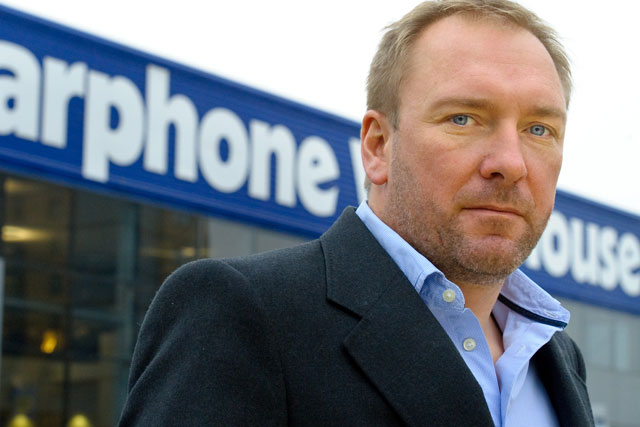 Harrison is the executive responsible for making the tough call on closing Best Buy in the UK after being promoted to chief executive officer of Best Buy Europe in 2010.
He is now responsible for driving Best Buy Europe's "connected world" strategy and customer proposition across all the company's brands, which includes Carphone Warehouse.
Harrison took time out after his keynote speech at this week's Internet Retailing conference to talk to Marketing about the challenges he faces.
How will the digital revolution affect the Carphone Warehouse store portfolio?
"We've probably reduced the amount of stores but not the space. We've focused on creating bigger environments that are much more engaging. If you are going to be on the high street you've got to be engaging – it's not just about what you are doing it's also about what everyone else around you is doing.
"If there is no one else to be around there's no point being there. I think there is an inevitability that we will have to address the size portfolio, but I still have a list of stores I want to open in places I've never been able to get to. There's no immediate dramatic reduction in our number of stores – we factor in convenience."
Are there any plans to bring back Best Buy brand to the UK?
"No. The Best Buy brand is no more and it is a grown up view of the world. The world changed in the time that Best Buy wanted to come to the UK. In the US 40% of Best Buy's profits now come from mobile.
"When I took over the bigger role and had to make the call on it I asked 'where is the future going to be?'. With the heritage of mobile phones and the smartphone and tablet revolution we just don't need 40,000 sq ft stores and with where online is going you've got to look at the footprint you need to sell that stuff.
"We could have put a Best Buy brand on small stores and called it Best Buy Mobile, but we [Carphone Warehouse] has got a 95% brand awareness and we are in the midst of the biggest revolution in our industry, I think the most foolish thing to have done would have been thrown the number one brand awareness away."
Is the Carphone Warehouse brand here to stay?
"Ever since I've been in the business I've said we have a stupid name and I went to Charles [Dunstone] on my first week there and said we've got a stupid name but he said we've spent too much money on the brand and this was 17-years-ago. I always say you don't buy boots from Boots – it becomes something you don't necessarily think about."
You spent £300 a minute on getting Carphone Warehouse to the top of the Google search rankings during the launch of the iPhone 5. Is this representative of a shift in where you channel your marketing spend?
"You've got a period where everyone is bidding to be the top of Google rankings and iPhone customers are the most valuable. They are interested in not who you are but whether you've got the product. That is why so much media spend is being moved into online channels because at least you can track it.
"I think there is a big debate about what is the complimentary relationship between offline and online media. Can you build a brand on online media? Or do you need some element of offline or PR? Now online brands such as eBay are turning to TV advertising.
"We see ads driving interactions and one of the things we want to make sure is let's not make the ad an ad, let's make a call to go and discover more online. Let's make you go and look at the videos of what we are doing. People don't just buy a phone by looking at an ad – we know there is a 33-day window where you have to be in people's [minds]."
In your conference speech you mentioned there was no buzz around the launch of the first ever Sony-branded phone in your stores. How are you now working with manufacturers to launch phones?
"You've got to create a sense of something happening. Your [the customer's] world has totally changed – there are now so many different avenues. I need to get a load of Facebook conversations going, a load of likes, I've got to get [interaction on] Twitter and blogs. If you look at the Samsung Galaxy SIII that has been the most successful phone launch against the iPhone. They fundamentally got right the fact you've got to create excitement.
"I know phone launches now that are going to be a damp squib because there is not enough back pipe filled with excitement. And the question for marketers is how much time do I spend building an ad versus bombarding people with 'four by two marketing' on the day of launch.
"Part of our learning has been to work with our manufacturers to create packages at launch where you can say if you really want to do this you've got to work through all of these processes. We've almost industrialised what you need to do. Our role is the same as the movie studios – we are the cinema."
What are you doing in terms of making your stores digital?
"We've just done one of the biggest retail deployments of Wi-Fi in our stores so we will have BT fibre-broadband in all of our stores at the end of this year. We started out by thinking we would have five or six connected devices in our stores – we now have an average of 135 connected devices in our stores. We will start to implement alternative point of sale units in our stores now for buying and selling things."
Will you implement Near-field communication (NFC)?
"I'm yet to be sold on NFC because I don't see what it's changing in terms of customer benefit because my wallet is quite close to me and I can use it very quickly – it doesn't necessarily speed up my transaction and it is limited to a small amount.
"It is one of those things where this bandwagon gets created and everyone goes 'I've got on install NFC terminals in my store'. What's the [standardised] technology going to be, who's going to pay for the cost of it? Is it solving a problem? No. Focus on the customer journeys that need solving, not the ones that don't."
Follow @mattchapmanuk