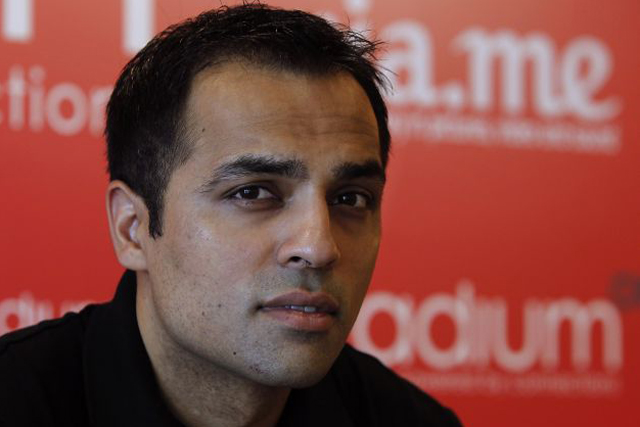 RadiumOne's 31 year old chief executive is leaving the company following damning accusations of domestic violence and battery. He will be replaced by RadiumOne's chief operating officer, Bill Lonergan.
A senior leader within RadiumOne has told Media Week Chahal's departure is set to be confirmed to investors and staff early tomorrow morning.
Media Week was told all RadiumOne's senior leaders and venture capitalists had found the allegations "completely disgusting".
The change of leadership is an attempt to save RadiumOne's reputation at a crucial time in its development and follows what was described as a "highly emotional" showdown today.
The programmatic ad specialist has been expanding quickly over the past three years and is credited for creating new ways for advertisers to connect with audiences online.
The company has been widely tippped for an IPO later this year after reportedly generating more than $100 million in advertising-related revenue in 2013.
The fall of an internet pioneer
The Silicon Valley entrepreneur "G" Chahal had been initially arrested and charged with hitting and kicking his girlfriend 117 times over a 30-minute period. Last week he escaped 45 felony charges but pleaded guilty to two misdemeanor courts - One for domestic violence battery and one for battery.
He was sentenced to three years of probation, 52 weeks of participation in a domestic violence program and 25 hours of community service. The incident was allegedly recorded on a smartphone.
Chahal had been adament he would not quit RadiumOne, the company he founded as gWallet in September 2009.
In a blog post today, he said: "I fully understand the outrage of those who believe I got off 'lightly' as asserted by numerous postings on social media sites. But the $500 fine I agreed to pay, the equivalent of a speeding ticket, is simply what those misdemeanors require, and in no way reflects the toll that this ordeal has exacted on me.
"There can be no dollar value placed on the pain and suffering I have caused my family and friends, my employees and customers my investors, and everyone else who has looked up to me in the past.
"The humiliation and shame I feel is immeasurable. The dollar cost to my business and my reputation is incalculable."
Head quartered in San Francisco and with more than 150 engineers, RadiumOne has a growing team of 42 in London, as well as offices in Amsterdam, Copenhagen, Paris, New York and Sydney.
Gurbaksh started his first company in January 1999, ClickAgents at the age of 16. It was one of the first ad networks focused around performance based advertising. Eighteen months later he sold it for $40 million to ValueClick.
In January 2004, he launched his second company, BlueLithium, and became a pioneer in behavioral targeting.
BlueLithium was named one of the top private companies in America and received the accolade of Top Innovator of the Year. Yahoo acquired BlueLithium for $300 million.
Lonergan tasked with steadying ship
Incoming chief executive Lonergan has been tasked with bringing a steady leadership to the company during this difficult and turbulent time.
The leader is said to have the "full trust and support of the Board". He joined RadiumOne as chief finance officer in 2010 from Offerpal, Inc and was promoted to chief operating officer in September 2011.
Previously, he was the chief financial officer of Blue Lithium, the behavioral targeting ad network that was also founded by RadiumOne's Chahal.
Lonergan was responsible for managing the M&A process during Blue Lithium's sale to Yahoo in 2007. He has also worked with LookSmart, Tacit Software and was a senior partner with KPMG for more than 12 years.