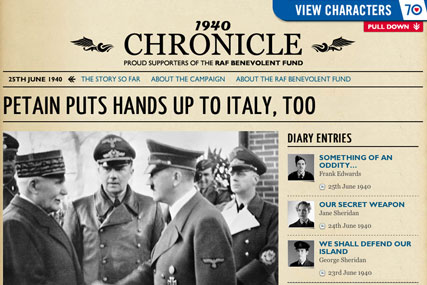 The campaign commemorates the 70th anniversary of the Battle of Britain, and from this month to September the RAFBF will bring five fictional characters to life through daily blogs and live engagement with followers on Twitter.
The characters include a Hurricane pilot, a radar operator, a plane mechanic, a nurse and a journalist.
Each of the fictional characters will provide a full personal account of their time during the great airborne battle.
Reading Room commissioned acclaimed writer Kevin Telfer, who worked closely with the RAFBF, to write the campaign content.
The stories will be printed on the site www.1940chronicle.com which will break daily headline stories, in real time, as if the battle was unfolding before us today in 2010.
Dean Benton, RAFBF director of marketing and communications, said: "We hope the campaign will bring home the impact of conflict on serving personnel and their families and the need for an organisation like the RAF Benevolent Fund – both in 1940 and still today in 2010."
Margaret Manning, chief executive of Reading Room, said: "The emergence of social media channels offers huge opportunities for charities to have conversations with their audiences, and the 1940's Chronicle campaign is a perfect example of how this can be achieved. We're extremely proud to be part of such a unique and exciting campaign."