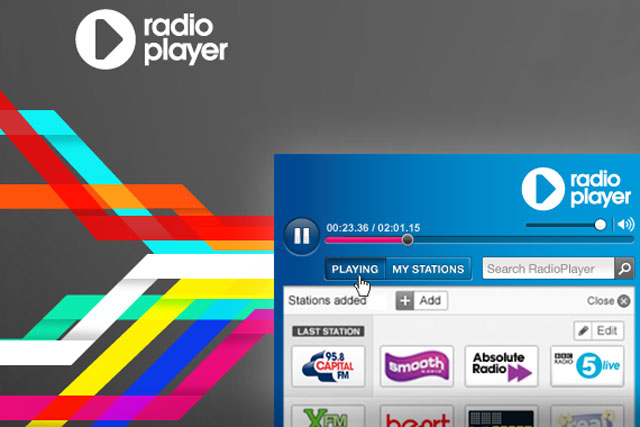 Digital's share rose from its previous high of 26.5% in the first quarter, and accounted for 289 million listening hours in the second quarter compared with 280 million in the first.
Internet listening's second quarter share rose year on year, from 2.9% to 3.2%.
Radioplayer, launched on 31 March, offers live streams and listen again content from both BBC and commercial stations, making the internet radio experience simpler. In June it claimed to have attracted 5.7 million unique users over four weeks.

It is hard to paint Radioplayer as an overnight success given internet listening's share fell from 3.6% the first quarter. However, the previous highest quarterly share was 3.1% in the fourth quarter of 2010.

Offering a possible explanation for the drop, a Radioplayer spokesman said: "In this quarter there was an extended holiday period and it is possible that as a result, office workers spent less time at fixed computers listening to internet radio."

DAB, the main digital platform, hit a 17.2% share, up from 15.8% in the second quarter of 2010 and 16.7% in the first quarter of this year.

The proportion of people who claim to own a DAB set at home rose to 38.9% from 35.3% in the second quarter of 2010.

The Rajar figures follow the release last week of statistics showing that digital radio sales are lagging far behind analogue radio sales.

Last week, it was widely reported that analogue set sales accounted for just over three-quarters of the 8.5 million radio sets (spanning all categories including car radios and mobile phones) sold in the year to 31 March.

Digital radio sales were flat at 1.9 million while analogue sales dropped from 7.3 million to 6.6 million. The GfK sales data were quoted by Ofcom in its second annual Digital Radio Report.

However, Clive Dickens, chief operating officer at Absolute Radio, said he would have liked to see faster growth but urged for closer inspection of Ofcom's definitions of analogue radio sales.

"There are plenty of cases where analogue radio is inadvertently being sold, like most of those accounted for in cars, nanos, or Nokia's android phones," he said. "Of course, it's not about technology, it's about audiences, but the current terminologies do skew the picture."

Analogue's share of listening was 65.2% this quarter, down from 67% in the second quarter of 2010.

Digital television's share rose to 4.8% from 4.1% in both the second quarter of 2010 and the first quarter of this year.

The amount of 'unspecified' listening (so-called because the respondent was unsure whether the broadcast was analogue or digital) was 8% this quarter, down year on year from 8.5%.