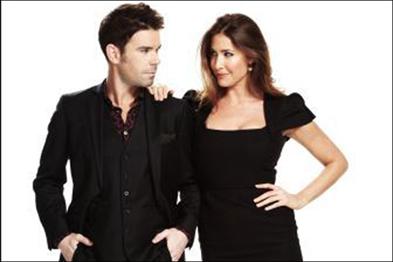 While Capital lost 197,000 listeners and Heart misplaced 141,000 between the first quarter and the second quarter, Magic only lost 12,000, leaving it with 1.95 million.
However, Magic's share of listening is down from 6.1% in the first quarter to 5.1% while Heart's travelled in the other direction from 4.4% to 5.3%.
Despite its higher reach Capital's share ended up lower at 4.6%, down from 5.3% in the previous quarter and 4.8% the previous year.
Capital retained its breakfast-time dominance, with 1.16 million listeners between 6am and 10am for its Dave Berry and Lisa Snowdon show, though this was down from 1.26 million in the first quarter.
Magic's 6am-9am breakfast audience dropped from 793,000 to 760,000 and while its sister station Kiss 100 FM narrowly beat Heart into fourth place for the affections of the bacon and eggs crowd.
Kiss' 6am-9am Rickie and Melvin breakfast show claimed 735,000 listeners, down 2% from the first quarter, but just ahead of Jamie and Harriet's 6am-9am Heart show with 734,000 listeners, down 3.3%.
Kiss 100 could not quite match Heart at the station level, recording a reach of 1.74 million listeners and a 4.3% share.
This meant that the station, which earned its edgy reputation from a pirate birth, was 6.5% down in reach year on year and 11.1% over the quarter.
Absolute Radio was undoubtedly one of the biggest success stories during the period and, in fact, the year. The station is gaining momentum in the capital with a 22.2% increase in reach from quarter one to 974,000, up 17.1% year on year.
Smooth Radio, which is being acquired by Global Radio as part of GMG Radio, drastically dropped in reach from 626,000 listeners in the first quarter to 385,000, a 38.5% fall. In year-on-year terms it was down 20.8%.
Global's alternative offering Xfm stood its ground from quarter one to quarter two, but was not so lucky year-on-year. The station, which prides itself on its indie rock heritage, had a weekly reach of 417,000 up from 409,000 during Q1 and with a 1.3% share of the London audience.
The station's reach is down a huge 31.4% year-on-year as it recorded a 671,000 weekly reach during the second quarter of 2011.
Global's LBC 97.3 was another loser in the London stakes as its reach dropped from 867,000 to 809,000 across the quarter with its share down from 3.8% to 3.4%.