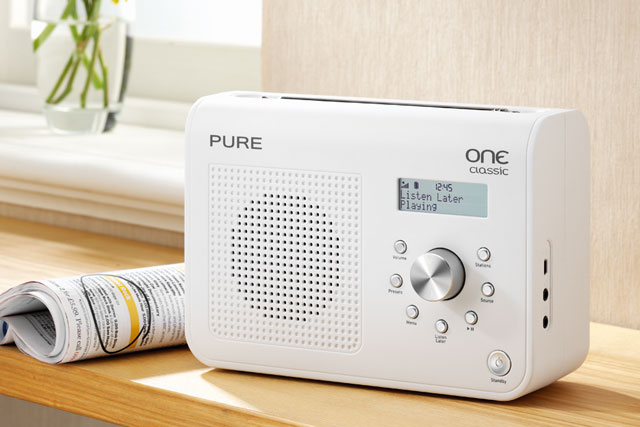 Stuart Taylor, chief executive of GMG Radio, described DAB's penetration as "very positive progress".
Eight years ago just one in 20 adults owned a DAB radio at home. Penetration doubled in the next year, then again within two years, but it has taken the ensuing five years to get from 20% to 40%.
The number of DAB sets (including DAB/IP sets) sold in December rose 8% on the previous December to hit 446,000, according to GfK.
Ric Blaxhill, music and content director at Bauer Radio, welcomed the spread of DAB, putting it down to lower prices and some sets "looking a bit cooler, appealing to younger listeners".
Despite DAB's rise, analogue remains entrenched as the platform through which most listening occurs, with a 64.1% share of all listening in Q4 2011.
However, the increasing ownership of DAB sets at home, where most listening takes place, does appear to be having an impact on the popularity of listening via the digital platform.
DAB took a 19.4% share in Q4 2011, which is up from 15.8% in Q4 2010.
DAB's growth helped digital radio (including digital TV and internet) grow its share from 25% to 29.1% over the same period. Andrew Harrison, chief executive of RadioCentre, claimed the share of digital radio listening was growing at a faster rate.
"Digital listening is growing quite quickly now," Taylor said. "People get sidetracked by the number of digital radios sold or the number of analogue radios sold but actually if you think about the connected TVs and devices sold we're seeing a huge growth in the opportunity to listen to radio. DAB is part of that story and a very important part but it's got to be seen in the overall context of ability to listen and opportunity to listen."
However, Rajar figures have yet to demonstrate that Radioplayer, the one-stop shop for online radio listening launched on 31 March last year, has had a real impact on the number of hours listened to internet radio.
In the Q2 2011 Rajars internet radio accounted for 34 million hours, rising to 40 million in Q3, but falling back to 35 million in Q4.
The government has stipulated it will not implement digital radio switchover until 50% of all listening is on a digital platform and DAB coverage reaches 90% of the population, including all major roads.
Ford Ennals, chief executive of Digital Radio UK, the industry body charged with promoting digital radio, said of the results: "This is a milestone moment for digital radio and demonstrates that the direction of travel for radio in the UK is digital."
This Rajar quarter ran from 18 September to 19 December 2011.
Follow Daniel Farey-Jones on Twitter @danfareyjones