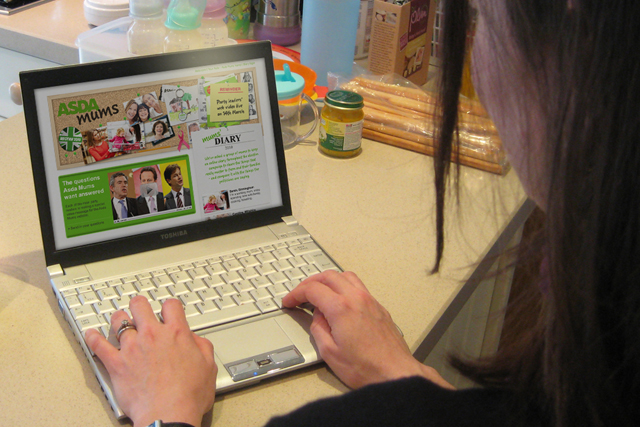 When Microsoft Advertising first surveyed the UK's mums back in 2008, we found that many mums' days were spent juggling the needs of offspring, partners, chores and work.
The web played a key role throughout, whether this was helping to manage family life, providing personal fulfillment and entertainment, or enabling communication with friends and family.
Talking to online mums again in 2010, it's clear that the web still does all those things - but has become far more ingrained within their everyday lives.

Based on a sample of over 800 UK mums and pregnant women with internet access, the new findings - exploring the way in which mums are using the internet and online technology, how they interact with brands online and how their behaviour has changed in the past two years - present some important insights for brands wishing to communicate with the high value mummy market.
Click here to enlarge
New Technology

Mums are 'savvy adopters', unafraid to try out new technology to help them to juggle their busy lives.
In fact, one in four mums now goes online using their phone at least once a week, using them to help organise their families, keep in touch and for entertainment.
This is a significant increase from 2008, when just one in 20 mums went online using their phone on a weekly basis, signifying a substantial transformation in the mobile space and a clear opportunity for mobile advertisers to communicate with this group.
As one mum explained, "I use my phone for everything. I even go online, it helps me to have contact with everyone, and I can check my emails when I am out too."
Mums have also gained confidence in new technology like WiFi because it has proved itself in making their lives easier; ownership of home wireless networks has almost doubled since 2008, from 28% to 46%.
This speedy adoption has gone hand in hand with laptop adoption, meaning mums watching TV at the same time as going online is now a common behavior, with 72% of mums surveyed combining these activities.
Advertisers therefore need to ensure that their online and offline communication is clearly integrated when communicating with UK mums; upcoming product placement on TV presents great opportunities for integrated communications, for example.
Entertainment and Indulgence

More mums are finding new technology frees them up to spend more 'me-time' online in the evenings, with 64% saying they go online after 8pm. One mother explained her evening routine: "I will open a bottle of wine, paint my toenails and go online."

The web is becoming increasingly important as a source of entertainment for some mums, as it's quick, convenient and freely available.
Private viewing enables mums to create an entertainment schedule that fits around their lives, with 56% of mums keeping in touch with their favourite shows through catch-up TV, and 63% of mums watching video clips online.
Online entertainment can replicate the gossip shared in the office, like a 'web watercooler' moment; 38% of mums visit women's lifestyle sites, and 51% turn to the web for their fix of celeb gossip.
"I try not to read all the gossip when I log in, but I can't help it, especially when there are pictures of celebrities on there," admits another mum. "Before I know it 20 minutes has gone by, and I haven't even read my emails!"
Shopping

As internet shopping has moved into the mainstream, mums' fears about the security of buying online have been overtaken by its convenience.
The internet is becoming a popular alternative to the weekly shopping run with 61% having bought their grocery shop online, 66% using the internet to buy things for the baby and over half (51%) having bought household items too.

At the same time, mums have become more savvy: using price comparison sites and seeking out online discount vouchers.
Today's mums are bargain hunters, with 64% reading consumer reviews and 48% using price comparison websites. Forty one percent of online mums now read expert reviews, a figure which has crept up from 36% in the past two years.

But online shopping isn't just for the family - mums also go online for personal fulfillment, indulging themselves with window or actual shopping for clothes, health and beauty and other products.
A whopping 82% of the mums we surveyed shop online to buy clothes, and 36% buy jewellery online.

"Shopping online is time for me, I shop for everything I want like clothes, holidays, things I really can't afford, like million pound houses," one mum told us.
Communicating effectively with today's online mums

Ultimately, online mums love the web for its convenience. And with the internet featuring so prominently in their everyday lives, advertisers have an opportunity to forge real emotional connections with mums through advertising that is relevant, trustworthy and offers clear benefits to them.
Mums' time online is limited, so advertising must be carefully targeted to this specific audience's needs.

Mums like to be rewarded
Online mums are most motivated by vouchers and competitions, especially in the recession. Fan sites or brand pages on social networks offer less appeal, although fan sites that have vouchers or that provide entertaining videos are well-liked.
Online mums are attracted to ads that stand out - whether it's through design, sound or sheer creativity; interaction needs to be fun and entertaining, and offer a reward.
Mums love online shopping
The convenience of e-commerce is great for mums if the purchase doesn't need much research.
For purchases where mums need to be more choosy, re-messaging helps remind them of their interest. Relevant e-newsletters are valued - with 56% mums citing them as a 'me-time' activity - because they are good sources for bargains.
Trust is important

Online mums are very loyal to the brands they trust so are more likely to respond to advertising messages from their favourite brands, especially if there is a clear connection between their online and offline campaigns - this is especially so for new mums and working mums who have the least amount of 'me-time', and so gravitate to trusted names.
The five-point plan for engaging online mums

Message needs to be clear and simple
Price/offer focus can help prompt action
Emotional and financial rewards are both valid motivators
Precision target for maximum effect
Complement digital campaigns with other platforms, like TV
Microsoft has 2.6 million mums visiting its sites daily, spending a total of 2.4 billion minutes per month (ComScore: July 2010). For more details on online mums and how to reach them, visit www.reachingmums.co.uk.
Julie Forey, head of new research, data and analytics team, Microsoft Advertising