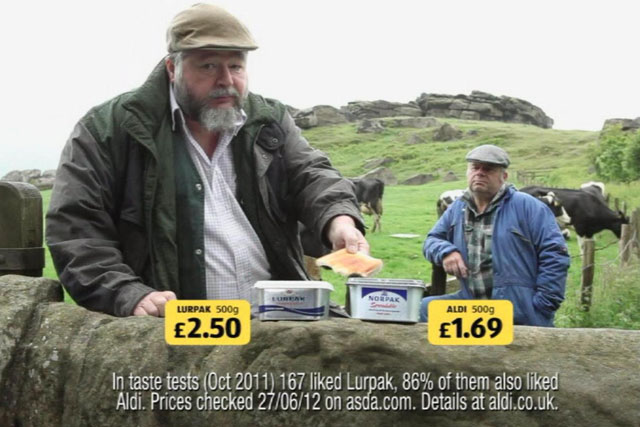 The supermarket also came top in the most-liked TV ads category, according to data from Nielsen and NM Incite. Dare's Gocompare.com spot, in which Sue Barker attempts to blow up Gio Compario, was the second most-remembered ad.
Gocompare also topped the most-discussed-online category, with close to 4 per cent of all online conversations about advertising focusing on the spot. Apple's "genius" campaign was more talked about, but didn't air in the UK so was removed from the scoring.
The "most-remembered" score is the percentage of viewers who can recall within 24 hours the storyline of an ad. These scores are indexed against a mean score for all new ads, with 100 representing this mean. The "most-liked" score is the percentage of viewers who liked a spot indexed against the mean score of 100.
Reality Check July 2012

Most-remembered ads

Most-liked ads

Most-talked-about ads online

%
1
Aldi
160
1
Aldi
140
1
Gocompare.com
3.94
'spread'
'spread'
'bazooka Sue'
McCann Manchester
McCann
Manchester
Dare
2
Gocompare.com
151
2
Olay
130
2
GlaxoSmithKline
1.45
'bazooka Sue'
'spa'
'the crowd is my only drug'
Dare
Saatchi & Saatchi

TBWA\London
3
BT
142
2
Samsung
130
3
Adidas
1.24
'Olympic visitors'
'everyone's
Olympic Games'
'take the stage'

AMV BBDO

Cheil Worldwide
Sid Lee
3
Kellogg's Rice Krispies
142
4
Argos
125
3
Ann Summers
1.24
'lovely rain'
'delivery'
'pleasure emporium'

Leo Burnett

CHI & Partners

Addiction
3
Kwik Fit
142
4
Kellogg's Rice Krispies
125
5
Nike
1.04
'Paul and Sue'
'lovely rain'
'find your greatness'
Adam & Eve/DDB

Leo Burnett

Wieden & Kennedy
Portland


Source: Nielsen TV Brand Effect and NM Incite. Only new ads airing 1-31 July 2012. Minimum sample = 150.