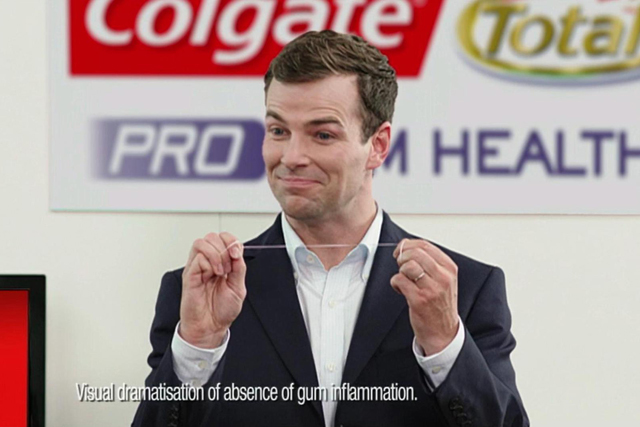 Samsung won entries in two tables, while Aldi continued its run of making at least one of the tables with a cheese-related spot from McCann Manchester. It was Colgate, though, with a former Campaign Turkey of the Week, that attracted the highest recall among consumers, according to data from Nielsen and NM Incite.
The "most-remembered" score is the percentage of viewers who can recall within 24 hours the storyline of an ad. These scores are indexed against a mean score for all new ads, with 100 representing the mean. The "most-liked" score is the percentage of viewers who liked a spot indexed against the mean score of 100.
Reality Check September 2012

Most-remembered ads

Most-liked ads

Most-talked-about ads online

%
1
Colgate
164
1
John Lewis

157
1
Misguided
14.97
'focus group'

'the other half'

'high summer'

Y&R Paris

Adam & Eve/DDB

The Gate Films

2
Ryvita
157
2
Lindt
143
2
Samsung Galaxy
4.49
'soup'
'so thin, so intense'

'the next big thing'

Grey London

Leo Burnett

72andSunny
3
Aldi
152
2
Sky
Broadband

143
3
John Lewis

4.28

'cheese
triangles'

'Bruce Willis'

'the other half'

McCann
Manchester

WCRS

Adam & Eve/DDB

3
Oreo
152
4
Marks &
Spencer

135
4
John Frieda

3.74
'best friends'

'for every
woman you are'

'Frizz-Ease'

DraftFCB

RKCR/Y&R

Addiction
Worldwide

5
Kellogs
Nutri-
Grain

141
4
Samsung
Galaxy

135
5
Walkers
1.60
'Sue'
'the new way'

'giant ridge'
Leo Burnett

Cheil Worldwide

AMV BBDO


Source: Nielsen TV Brand Effect and NM Incite. Only new ads airing 1-30 September 2012. Minimum sample = 150.