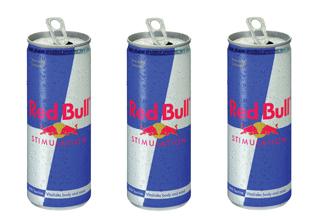 A document purportedly from Red Bull, seen by Marketing, outlines a 'secret mission' planned for the first week of October.
The document states: 'Action. To go into JDW sites that are now stocking Monster and 'smuggle' some cans of Red Bull into consume on site.'
It goes on to say that if any 'wings girls' are caught it is 'vital that they DO NOT say they work for Red Bull and simply say they don't like the taste of Monster so brought in their own supply of Red Bull'.
The objective of the activity, it says, is 'for staff and managers to see and feedback that their customers are not happy about Monster being stocked and are even bringing in their own supply [of Red Bull] to consume.
'The more managers feeding this back the more impact this could have at HQ,' it concludes.
A spokesman for JD Wetherspoon said the company was 'surprised that a big company like Red Bull would stoop to wide-boy tactics'.
He claimed that since switching to Monster in September its sales had outstripped those of Red Bull.
Alan Clark, European on-premise director at Monster Energy, said: 'We are extremely disappointed Red Bull has stooped to such desperate tactics to try to win back a lost account.'
A spokesman for Red Bull said it had ended the activity.
"Now that this has been brought to our attention, the activity has been stopped immediately. The Wetherspoon on-trade business is very important to Red Bull and we look forward to working with them again in the future.'