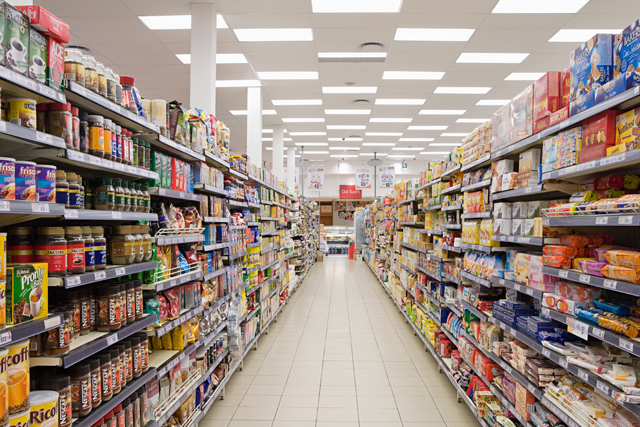 In an era where the death knell of the high street is sounded with the regularity of a quarterly update, it is no surprise that leaders of the big supermarkets are focused on how to reinvent retail.
Sainsbury's chief executive Justin King perhaps summed it up, when he said last week: 'It requires reinvigoration and a transition. If empty shops are left as retail then that further damages the high street. Whether it's as other commercial use or residential, we should allow parts of the high street to reinvent itself.'
The state of the shopping parade aside, reinvention across stores, ethos, people and technology was the message coming through when King, along with bosses of Tesco, Asda, Morrisons and Marks & Spencer, took to the stage of the grocery sector's annual state of the nation, the IGD Convention.
Alongside the retail bosses, Google UK managing director Dan Cobley, Unilever Europe president Jan Zijderveld and Heinz UK president Matt Hill were among the speakers painting a picture of a rapidly changing retail scene, where continued investment is essential during a recession.
Marc Bolland: 'Why is there no consumer Arab Spring?'
Philip Clarke: 'Showrooming is alive and well'
Jan Zijderveld: 'The "boring aisles" are ripe for reinvention'
Talent and technology for the future
Technology is enabling every part of retailing today, believes Judith McKenna, Asda's chief operating officer. 'The hardest trick to pull off is keeping the here and now relevant while reinventing for the future, running both simultaneously and keeping a single minded focus.'
The roll-out of wi-fi across its stores and giving every store manager an iPad are 'revolutionising' Asda's shop floor for consumers and staff, with each manager saving seven hours a week thanks to the tablet.
However, the real key for business change is finding the right talent. 'We need talented people to think around corners and help deliver the future. Sometimes you fid the greatest skills when you look outside the business.'
Wal-Mart has recognised this, she explained, and has begun recruiting people 'who don't think like them'. The new team is based in Silicon Valley, charged with finding different ways to drive forward the business.
'We need this new agile way of thinking to challenge the traditional thinking. These people think in terms of data not product.'
A consumer uprising
M&S chief Marc Bolland believes the market should be asking: 'Why is there no consumer Arab Spring? Why is the next generation accepting from us that we're only building a future for the next couple of years. There is not enough being done.'
He called on every company to ensure 5% of their business is 'cradle to grave'. M&S' clothes recycling Shwopping campaign was his way of making a difference, although Bolland added that he also dedicates 5% of his personal and business time 'for a better world'.
As well as being the face of Shwopping, Joanna Lumley is one of an 11-strong advisory group on sustainability, who are there to 'beat us up on many different issues', he added.
Get personal
For Tesco chief executive Philip Clarke, it is about finding new ways to personalise the offer at every point. Only through 'forging personal relationships' with consumers, will the market be able to anticipate what consumers will want in the future, before they know themselves.
The smartphone has changed everything, he said. 'It's predicted that one in five online purchases will be made with a smartphone by the end of this year. Showrooming is alive and well in England,' he added, referring to the trend for people to look use their phones will shopping in physical stores.
'With a touch of their finger, a click of a mouse, they can take their custom from one retailer, or brand, to another. The world is there for them to research, to hunt for bargains wherever they are – at home, on the way to work, in stores,' he continued.
'Not only can we communicate with people directly, one on one, but thanks to the data we now all have, we can understand more about what those customers want, how they shop, their stage in life, their income, their tastes, their habits.
'We need to be one step in front, helping to guide them, making their lives easier, more enjoyable and better,' explained Clarke.
The 'heart' of the store
It takes heavy investment from both brand and retailer, but Unilever's Zijderveld believes that the centre of stores, the 'boring aisles', need reinvention. 'It's the perimeter of the store where growth is driven by innovation and excitement. The heart of the store is a growth opportunity but it takes collaboration to unlock that.'
Unilever's Maille mustard brand, for example, has replicated its French boutique shop façade on supermarket shelves in Europe, creating a 'mini Maille store'. These have added EUR60,000 to each store where it is trialled, said Zijderveld.
The fmcg firm has also been working on 'Men Zones' in supermarkets, fixtures designed to appeal to men, but also female consumers who make up 50% of category purchases. At the four trial stores in the Philippines, sales across the whole shop – not just the men's aisle - are up 7%, he said.
While talk of ecommerce and mcommerce informed much of the conversation, King brought the reality back into focus. 'Without wanting to sound like a luddite or naysayer, we are now 12 years into developing online in the UK. £5bn is spent in that environment, but still 96p in ever £1 is spent in those "boring" shops that Jan [Zijderveld] talked about. There's life in the old dog yet.'
RETAIL INNOVATION: STORES OF THE FUTURE
Google Street View already allows people to see inside galleries and museums to plan their route. Now, this is heading to retailers. Already, a Google Maps user can zoom in on Harrods and see within the store where the different departments are located and see each floor. 'There is no reason why that can't be inside a supermarket, zooming in to show the different aisles,' claimed Dan Cobley, UK marketing director, Google.
A shopping list app in the Netherland, he said, has been downloaded by 50% of smartphone users. The app places the shopping list into the correct order for finding the items, then directs the shopper around the store.
A smart trolley being developed by Whole Foods Market in the US gives a glimpse of what could be ahead. It follows a shopper around the store, automatically scanning an item when added to the trolley. However, it will also tell you when you have added an item not on your list, and will even tell you if a product you have added doesn' suit your dietary needs, such as allergies.
'Smart replenishment' is also making its way into homes, claimed Cobley. Pressing a button on an Evian fridge magnet will re-order water supplies, while another push-button fridge magnet being trialled by a US pizza chain will send a message to your phone to confirm your toppings, with the pizza delivered 25 minutes later.
As the price of Near Field Communication (NFC) tags eventually falls from 2-3p per tag to a fraction of a penny when they can be embedded within inks on the packaging, the opportunities will be huge, said Cobley. By touching the pack with a phone, consumers will be able to see 'rich information' instantly, whether at home or in the store.