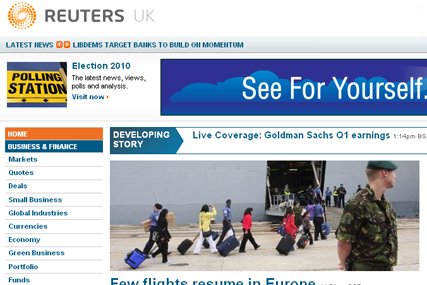 The revamp of its website comes as Reuters, which merged with Canadian news group Thomson two years ago, looks to differentiate itself from rival Bloomberg and streamline its operations.
The overhaul of the website is set to mirror the revamp of Reuters' US website in December last year.
Tim Faircliff, general manager of Reuter's UK digital business, described the website as boasting a "cleaner" and more "impactful" look.
The Reuters website, and its news, will remain free to access but Faircliff said: "We think it's sensible that you can pay for niche, high-value content."
Content which could be considered high-value includes its healthcare data and tax and accounting data but the company has yet to make a decision on such a strategy.
Faircliff added that the revamp of the US website has prompted a positive response from advertisers and believes the UK overhaul will be met with similar applause.