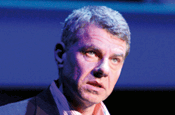 The non-executive role will involve close liaison with Stewart Easterbrook, SMG's chief executive, on strategy and positioning for the group in the UK, as well as senior client relationships.

Eyre will also work with group board members, collectively and individually.

Eyre has held a number of executive roles over his 33-year career in the media industry. He was founding media director of BBH and chief executive of Capital Radio, ITV and Pearson Television.

He now holds a number of non-executive roles at the Internet Advertising Bureau, RDF Media and Rapid Mobile, and is a director of Results International.

He was also chairman of GCap Media but stepped down in May following its sale to Global.

Eyre said: "Media advertising occupied the first 16 years of my career. It is my first love and I relish the opportunity to work with Stewart and his people to provide a new level of service to SMG's clients."

Easterbrook said: "We operate in one of the most competitive sectors of the economy.

"Success demands an obsession with the provision of outstanding value for clients.

"So I am absolutely delighted to have someone of Richard's calibre and experience working with me and the senior management team.

"His experience, not only as a media practitioner, but as chief executive and chairman of a number of British companies, adds a depth of experience that is unique to media agencies in the UK."