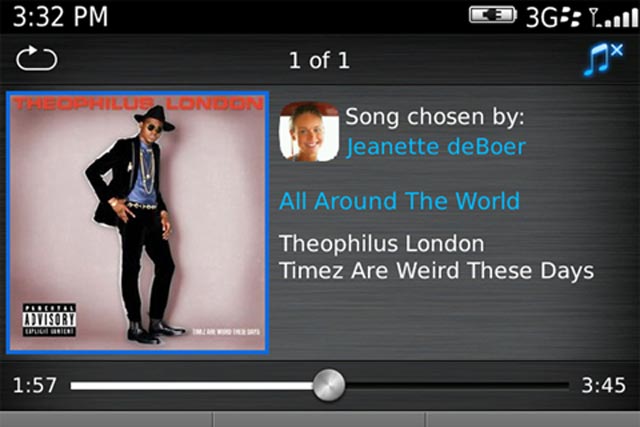 The service, which is available to BlackBerry users via an app, is a community-based cloud music library for discovering and sharing music.
Rim has secured deals with four major record labels – Universal Music Group, Sony Music Entertainment, Warner Music Group and EMI – offering users access to a catalogue of millions of full tracks.
Each BBM Music user can build a profile of up to 50 tracks from the catalogue.
They can create a network of friends from their existing contacts on the BlackBerry messenger system (BBM) and can listen to each other's selected tracks. This means the larger their network, the greater the pool of music becomes.
Users can also create and share playlists from the combined profiles in their network.
Within the BBM app, users can see a visual timeline of all updates within the community, including which songs have been added and deleted, and who is listening to what.
The service launches today (25 August) in beta format to a select number of people in the UK, US and Canada, and will roll out widely to other markets for a monthly subscription priced around $4.99 (£3), later this year.
Rim has partnered with Omnifore, the cloud music service provider, to use its back-end technology for the app.
Rim will be hoping the service will help boost its revenues and help offset the decline in market share of its BlackBerry phones since the arrival of Apple's iPhones, and those using Google Android's system.
Mike Lazaridis, president and co-chief executive at Rim, said the service would allow its 45 million customers using BBM to "connect with friends on a whole new level."
Rob Wells, president of global digital business for Universal Music Group, said: "A major component of online music continues to be about community, and the ability to discover new artists and music through word of mouth.
"BBM Music dynamically and elegantly integrates the excitement of this social music discovery process with a high quality music service."
Michael Nash, executive vice-president of digital strategy and business development at Warner Music Group, said: "A dynamic social music experience is a powerful way for our artists to connect with fans and also for fans to discover music by interacting with each other."
The launch of the new service comes in the wake of RIM's BBM service being widely linked to being used recently by rioters in the UK to co-ordinate activity.
Rim, which has cornered the teen smartphone market with its BlackBerry device, is now facing direct competition from Facebook, after it launched its answer to BBM earlier this month, in the form of a new mobile messaging app.