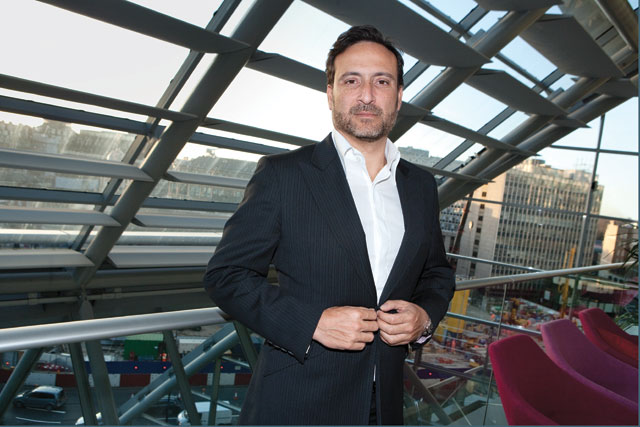 The late James Graham Ballard is one of the few people who would find any inspiration in Microsoft Advertising's headquarters. Located among the dreary and windswept parade of offices that make up Victoria Street, London, it has possibly the most dystopian feel of any media organisation in the city.
For a company whose business is grounded in innovation and new technology, dynamic and exciting it is not. It's all twitching security guards, nervous-looking employees (mollified occasionally by free cans of Coke) fiddling their staff passes, the odd bank of ominously vacant workstations and rubber plants no doubt carefully tended by a third-party contractor.
It's a huge relief, then, to emerge from this soulless vacuum into the office of its genial general manager, Andy Hart. Aside from having some natural light and a good view of Westminster Cathedral - a reminder that not every Luftwaffe pilot's aim was good and that, even to an agnostic, there's a life that extends beyond the reach of Microsoft - Hart is rather witty and animated company. That is after getting past the "Do you want a can of Coke?" ritual that is obligatory to every visitor. But then Hart is a media man at, erm, heart.
A PR is on hand to host the meeting and to ensure that key corporate messages are successfully communicated. But Hart can't help from occasionally straying off brief and being a bit of a laugh (when he gets particularly animated about something and appears to be perilously close to dropping the F-bomb, the blood almost drains from the PR's face).
Six months have passed since Hart joined the company, after a period in the wilderness where he dabbled in investment ("I wasn't very good at it," he admits. "And I missed the big play"), having left Associated Northcliffe Digital three years previously.
He has just put the final piece of his management team in place with the hiring of the lively Simon Davies, formerly of The Independent and The Mail on Sunday, as sales director. This followed a period when Microsoft Advertising appeared to be in a state of perpetual flux and getting through commercial directors as most companies get through printer ink cartridges.
His new executive team, he says, is drawn from media, advertising and technology, reflecting how advertising sales have risen in importance at Microsoft. But this is not to say that agencies still see it as less of a media opportunity and more of a tech company.
"I can understand why people say that Microsoft is primarily a technology company and, in the scheme of the Microsoft model, we are a small but interesting piece," he says. Hart maintains that media now has a place at the top table of the body corporate and the hiring of a newspaper man such as Davies seems to emphasise this.
The breadth of Microsoft Advertising's portfolio that Davies and his team are tasked with selling is also small (at least currently), but interesting. It comprises MSN, Windows Live, Xbox, Bing search, Windows Phone and Skype. It's quite specialist and one that, in the UK at least, makes a modest return back to the parent company - but at least it turns a profit.
Boosting this revenue - and Microsoft Advertising's profile - is one of Hart's key aims. It helps to be a techie to keep up with all the often-confusing innovations, developments and ad opportunities that are going on at the company, and Hart's excited (and occasionally rambling) descriptions of what it has to offer don't make this much easier. But his excitement is not false and is rather endearing - he started his career selling space on computer magazines back in the late 80s and has worked with and for technology brands ever since.
However, Hart does a good job of putting together a pitch for why Microsoft now reaches multiple platforms and how the internet-connected Xbox will change the way that we watch television and consume advertising. This is probably one for the future, so buyers need not be too worried that they are missing a trick just yet.
But back to Microsoft. Other than having not succeeded as an investor, what attracted him to a job in a company that isn't necessarily known for being stuffed to the gunnels with media characters? "When the brief came in, I thought it was absolutely the right thing for Microsoft to do. The brand needed boosting. We needed to bring it back to the top table," he says. "I've been very lucky with my timing - we're going through a period of great innovation."
Victoria Street appears to be in a constant state of reconstruction, much like the technology products of Microsoft itself. But unlike those grim 70s glass offices that are pulled down periodically to be replaced by apparently identical replicas, at least Microsoft makes some improvements.
With the interview close to winding up, the PR prompts Hart to reiterate his messages from the briefing notes in front of him.
Obediently, he reels off his key goals - "building strong relationships with creatives and clients, bringing simplicity to the market and emphasising how the whole area of the connected living room and mobile will change people's media consumption", only occasionally glancing down at the sheet of paper.
He'll probably do a good job, especially with Davies at his side, in injecting some much-needed humanity into the company. But it's still nice to get out of the building.
THE LOWDOWN
Age: 45
Lives: St John's Wood, London
Family: Max (14) and Bagel the beagle
Favourite TV programmes: Shameless and Californication
Favourite gadget: Kinect
Most treasured possession: Epiphone 1944 FT 45-Cortez acoustic guitar
Interests outside work: Arsenal FC, music, writing, playing, reading,
going to gigs, "dad stuff" and charity work