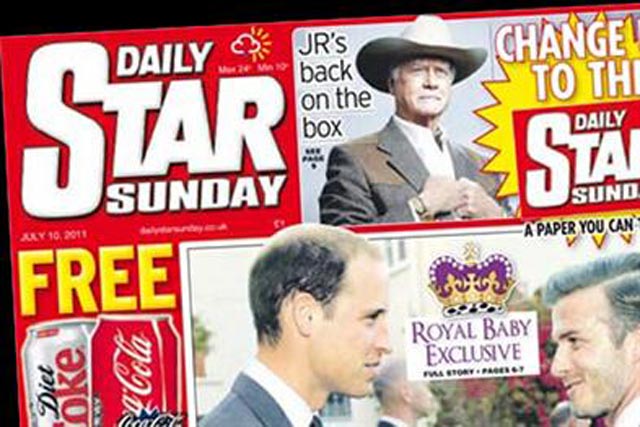 Bailey's Trinity Mirror, publisher of the Sunday Mirror and The People, is again price-discounting both national Sunday titles, from £1 to 50p.
The publisher is also set to air TV ads this weekend, as it looks to lock in the circulation increase it witnessed last weekend – nearly doubling the Sunday Mirror's circulation from 1.1 million in June, to 2 million.
Likewise, The People is hoping for another strong week after it upped its circulation from 475,000 to 900,000, according to unofficial figures.
Desmond's Daily Star Sunday is also set for a fresh blitz this week on former News of the World readers.
It is thought that Daily Star Sunday will be priced at £1, its normal cover price, but will again feature its OK! Extra celebrity supplement, which launched last weekend.
Desmond is also to air TV ads this weekend, along with a direct mail drop.
Rothemere's mid-market Mail on Sunday is again price-discounting from £1.50 to £1 this weekend. Customers who have collected its money-off vouchers can purchase the title for 50p.
Estimates as to how well The Mail on Sunday performed last week vary from a figure of 2.2 million, to a circulation of 2.4 million, compared to June's audited circulation figure of 1.92 million.
Sources close to The Mail on Sunday suggest that executives are now leaning towards the idea of grabbing more market share with the existing title, as opposed to launching a new tabloid title.