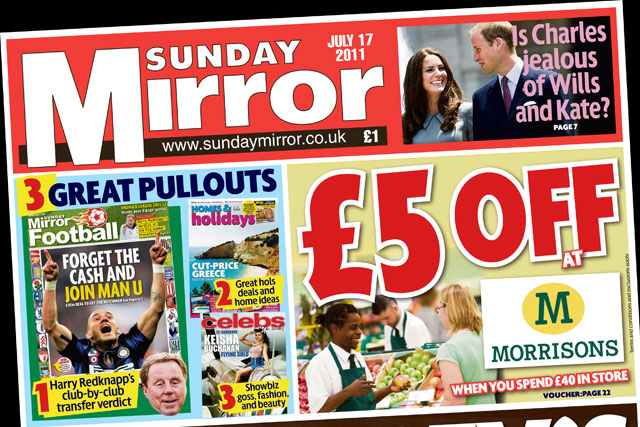 According to unofficial figures, four titles added a total of 2.35 million extra copies yesterday, close to the 2.67 million average issue sales recorded by The News of the World in official June ABC figures.
The Daily Star Sunday recorded a circulation of 1.1 million and was powered by a TV advertising campaign at the weekend and giving away a copy of new supplement, OK! Extra.
The Daily Star Sunday's June average issue circulation was just over 306,000 copies, so it put on an extra headline sales of more than 700,000 this weekend.
Headlines in this week's edition of The Daily Star Sunday included "Cheryl's back on The X Factor" and "Lotto couple on the run".
But Desmond's tabloid title – according to the company – printed nearly 2.2 million copies, leaving more than one million left unsold.
Sly Bailey's two Trinity Mirror-owned tabloid titles, The People and The Sunday Mirror, also performed strongly, according to unofficial figures.
The Sunday Mirror lured in close to two million readers, nearly double its 1.1 million circulation in June.
Like Desmond, Bailey supported the Sunday Mirror with TV activity and the Sunday Mirror slashed its cover price from £1 to 50p.
The Sunday Mirror upped its normal print run from just over one million to around two million, while sister-title The People doubled its distribution from around 500,000 to one million on Sunday.
The People upped its circulation from 475,000 in June, to 900,000 yesterday, according to the figures.
Headlines in The People includes "Ashley Cole begs Cheryl to re-marry" and "Kate too thin to get pregnant?"
The Mail on Sunday, which many thought would benefit most, was up nearly 15% to 2.2 million. The title's June audited circulation figure was 1.92 million.
No figures were available for the Sunday Express.
The publishers' various marketing activities will have been a hit on their respective bottom lines, so it remains to be seen whether they are able to maintain their performances.
According to estimates from the National Federation of Retail Newsagents (NFRN), the overall Sunday national newsaper market last weekend was up 39.5% on the weekend previous.
Trinity Mirror declined to comment. Northern & Shell was unavailable for comment.
UPDATE (22 July): Revised estimates put the Daily Star Sunday's total at 882,000 copies, not 1.1 million.