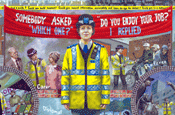 The brief, which was also chased by M&C Saatchi, is to promote neighbourhood policing and safety in the community.

The work will promote the Government's attempts to increase the number of neighbourhood policemen, as outlined in the revised National Community Safety Plan.

RKCR/Y&R recently worked on the Home Office knife crime campaign, which included viral, print and radio ads.