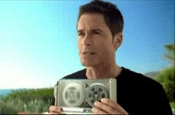 The ad, created by Mother, features the fictional Orange film board executives Mr Dresden and his sidekick Elliott interrupting Lowe while he pitches a film idea for a remake of 'All the President's Men', the classic
film about the Watergate scandal.

The Orange executives, overwhelmed by the actor's good looks, interrupt him during the pitch to compliment him on his "incredible" blue eyes.

They ignore his suggestions and declare his pitch boring, deciding instead to 'sex-up' the film, with one film exec declaring: "Oh my God, Rob Lowe just looked right at me".

Changing the theme from 'Watergate' to 'water-based', they suggest that Lowe play the part of hunky lifeguard who brings down a corrupt coastguard using a mobile phone.

Orange executive Mr Dresden then flicks a skimpy black G-string (featuring an Orange logo) at the actor.