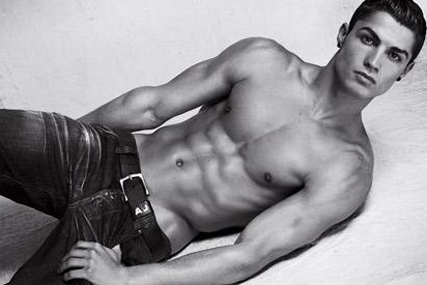 It was announced last October that the striker would be replacing Beckham from this year and the photographs were taken in Madrid by fashion photographers Mert Alas and Marcus Piggott.
The shots, which feature Ronaldo posing in various stages of undress, will be used in Armani's Spring Summer 2010 advertising campaign in sport, fashion and lifestyle magazines and on signature billboards in New York, Los Angeles, London, Milan, Rome, Paris and Tokyo.
Giorgio Armani said, Ronaldo "is the essence of youth - spontaneous, exciting, a real maverick" and was chosen for his "energy" and "youthful, exciting and sexy attitude".
Ronaldo said: "Armani is a legend in the fashion world and I have long been a fan of his work. I am very pleased with the pictures - they are certainly striking and are full of an attitude and spirit that I can relate to."
Earlier this week Armani released the first pictures of 'Transformers' actress Megan Fox who has replaced former Spice Girl turned fashion designer Victoria Beckham as the new female brand ambassador for Emporio Armani underwear and Armani Jeans.